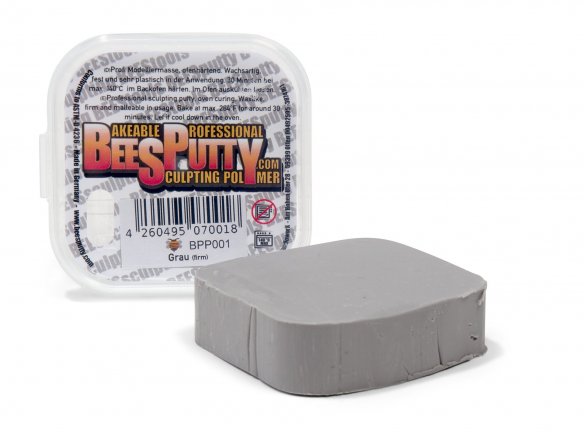 For the finest details
Somewhat firmer than Beesputty Plastic
Long processing time
high plasticity/waxiness
Extremely supple and yet stable
Good mechanical workability when cured
Material

PVC based

Weight

100 g

Baking temperature

30 minutes at maximum 140 °C

Packaging

reclosable plastic box
The BeeSPutty DoubleFirm professional sculpting polymer is made in Germany. This over-hardening modelling compound with top quality fillers was developed by a figure model maker and combines a long pot life (working time) with optimal modelling attributes. BeeSPutty can be used for every kind of modelling work, from making figures to finely detailed magical creatures. It is especially great for making small intricate pieces.
As might be guessed from the product´s name, working with BeeSPutty is similar to working with natural beeswax. Kneading it with warm hands brings forth its excellent plasticity. The extreme suppleness found in beeswax is supplemented with an increased level of stickyness that makes applying it on an already modelled sculpture or on a sculpure armature such as aluminium wire that much easier. Despite its excellent wax-like malleability, BeeSPutty is nonetheless very durable and stable. The stability of the material makes it possible to make particularly precise and intricate surface textures. It is in making very small scale figures and sculptures that the true abilities of this putty to produce fine detail comes to the fore. Because the different coloured BeeSPuttys can be mixed with one another it is possible to easily add the correct colour details to your sculpture as well.
When the modelling putty has been formed to your satisfaction it can then be baked in an oven for 30 minutes at a temperature of maximum 115°C. In order to prevent the formation of  stress cracks the model should remain in the oven until it has returned to room temperature. After it has completely cooled down it can be reworked as necessary with files and blades or roughed up with sandpaper. The cured surface can be polished to a wax-like glossiness with a brush or cloth or with Vaseline or utter cream (Bag Balm). Acrylic paints can be used to add any necessary accents.
BeeSPutty DoubleFirm has a somewhat more solid and firm consistency than the classic BeeSPutty Firm and is especially great for detailed miniature prototypes. The firmer a modeling compound is, the better it is for producing fine detail and very small pieces. For this reason BeesPutty DoubleFirm will hold its shape even when being formed into the finest of detail. When working with this putty during periods of high temperatures like summertime or under very hot lights we recommend that you upgrade to the BeeSPutty TrippleFirm!
BeeSPutty DoubleFirm professional sculpting polymer, 100 g-block (65 x 65 x 20 mm), 115°C, grey