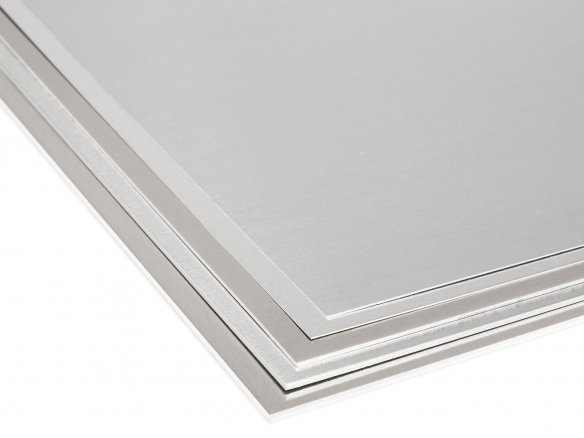 medium hard, smooth, one side with protective film
In model making, these sheets can be used to represent, for example, metal facades or bodies of water. They can also be used in the production of jewellery, for making signs or as reflecting surfaces.
For cutting thinner sheets, a blade or a scissors will suffice; for thicknesses over 0.5 mm, a saw or tin snips will do the job. Aluminium sheet can be successfully glued with two component glue like, for example, those based on cyanoacrylate; in model making, Uhu hard can also be used.
Custom cutting available. Choose your desired size! For more information about our custom cutting service, please visit Modulor Services.
Aluminium sheets (custom cutting available)
12 Variants
0,50 mm
1,00 mm
1,50 mm
2,00 mm
custom cutting
250 mm × 250 mm
250 mm × 500 mm
Note
Custom cut aluminium sheets can end up being lightly scratched on one side because only one side is covered with a protective film. We cannot give more precise information as to the configuration of the sheets.

Please note that no exchange is possible in the case of products cut from rolls and pre-cut pieces.
Accessories and Related Products