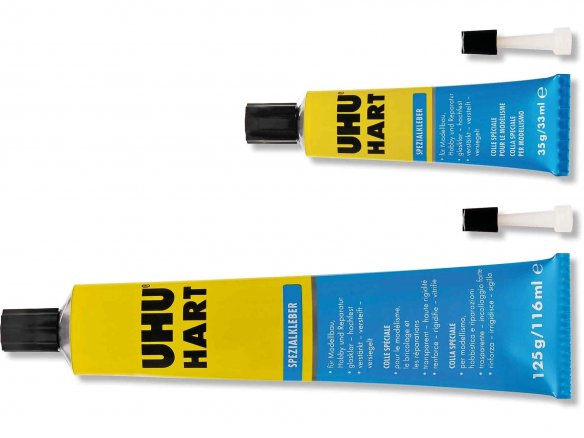 contains solvent, transparent, colourless, waterproof, fast drying, with separate fine injector, hazard warnings: Xi irritant, F highly flammable
UHU hard is a crystal clear, quick and hard-drying solution adhesive which is waterproof and resistant to oil, benzine and thinned acid or lye.
Because of both the extra nozzle for fine application and the short curing time, it is particularly good for making dot and linear bonds on almost any material type (not polystyrene foam) in the model making and handicrafts sectors or in the household.
In the case of hard surfaces, bonds with a higher strength will be produced when the glue applied to the relevant areas is allowed to set up for 1 – 2 minutes before another coat of glue is then applied right before pressing the surfaces together.