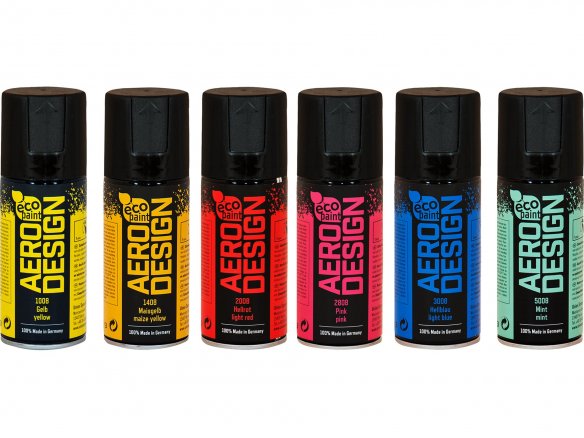 Surface

Semi-gloss

Properties

Smudge-proof, weather-resistant, compatible with polystyrene
Description
Hazard warnings
Because the Aerodesign colour spray can is smaller than the AERODECOR COLOUR SPRAY version, it is especially suitable for jobs where only a small amount of a particular colour of paint is needed; e.g. in model making or small handicraft projects. It is not, however, just the smaller version of its forerunner - it also has more applications. The formula for the paint now allows it to be used on POLYSTYRENE FOAM STYROPOR, something for which the AERODECOR version was not recommended.
Danger, Propan = 13 - 18 %, Butan = 47 - 52 %, Ethanol = 0 - 5 %, (VOC-Wert = 601,0 g/l), Flam. Aerosol 1
Hazard warnings
H222: Extremely flammable aerosol.
H229: Pressurised container: May burst if heated.
Safety instructions
P102: Keep out of reach of children.
P210: Keep away from heat, hot surfaces, sparks, open flames and other ignition sources. No smoking.
P211: Do not spray on an open flame or other ignition source.
P251: Do not pierce or burn, aven after use.
P410+P412: Protect from sunlight. Do not expose to temperatures exceeding 50°C / 122°F.
P501: Dispose of contents / container to …
Downloads
Aerodesign colour spray paint
31 Variants
Note
When using this paint on POLYSTYRENE FOAM you should definitely not deviate from the recommended spray distance! Do a preliminary test!