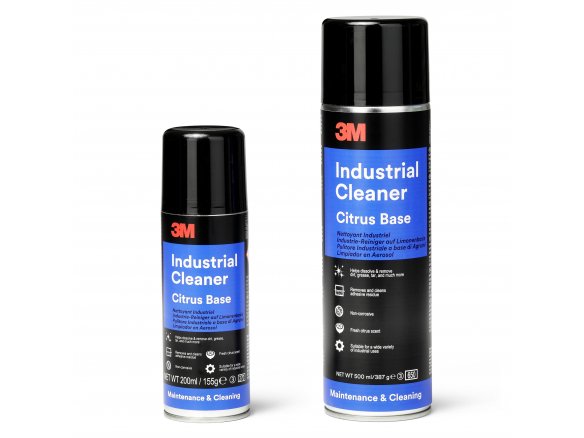 lime based oil spray for removing uncured glue residue and other rough impurities like oil and grease; solvent-free, pH neutral
Description
Hazard warnings
This industrial cleaner is great for removing glue residues (when not chemically cured) as well as those from self-adhesive films and tapes, labels or other stickers. In addition, other tenacious dirt or stains like tar, rubber abrasions, oil or grease can be removed from metals, ceramics, glass, stone or other materials. The cleaner is pH neutral (pH 7.5), not corrosive and is gentle on sensitive materials like aluminium and stainless steel. Many types of paint as well as a multitude of plastics like acrylic (PMMA), ABS, PVC, PC, PET, PE and PP will also not be affected by this industrial cleaner. Don't forget, however, that it can NOT be uses on polystyrene! The cleaner contains no petroleum distillate and no chlorinated solvents. It should not be used as a surface cleaning agent before gluing work.
Danger, (R)-p-Mentha-1,8-dien = 80 - 90 %, Propan = 10 - 15 %, 7-Methyl-3-methylenocta-1,6-dien = < 3 %, (VOC-Gehalt = 850 g/l), Aerosole, Kategorie 1 - Aerosol, Ätz-/Reizwirkung auf die Haut, Kategorie 2 - Skin Irrit. 2, Akut gewässergefährdend, Kategorie 1 - Aquatic Acute, Chronisch gewässergefährdend, Kategorie 1 - Aquatic Chronic, Sensibilisierung der Haut, Kategorie 1 - Skin Sens.
Hazard warnings
H222: Extremely flammable aerosol.
H229: Pressurised container: May burst if heated.
H315: Causes skin irritation.
H317: May cause an allergic skin reaction.
H410: Very toxic to aquatic life with long lasting effects.
Safety instructions
P210: Keep away from heat, hot surfaces, sparks, open flames and other ignition sources. No smoking.
P211: Do not spray on an open flame or other ignition source.
P251: Do not pierce or burn, aven after use.
P280: Wear protective gloves / protective clothing / eye protection / face protection.
P410+P412: Protect from sunlight. Do not expose to temperatures exceeding 50°C / 122°F.
P501: Dispose of contents / container to …
Downloads
3M IC (industrial cleaner) aerosol can, lime based
2 Variants
Note
This industrial cleaner should not be used on polystyrene!