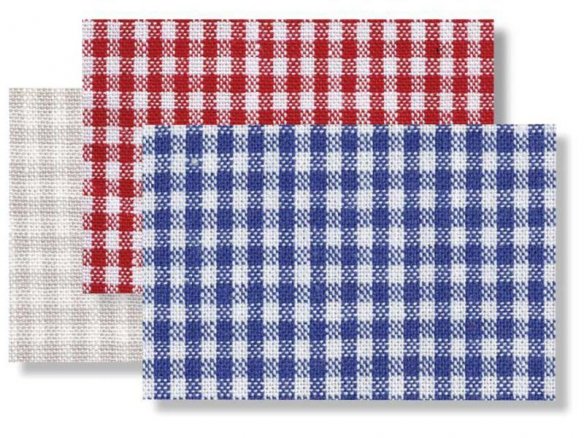 100% cotton, 190 g/m², yarn-dyed, tabby (linen) weave, machine washable up to 40 °C , effective width ca. 1470 mm, doubled over
The Vichy chequered pattern has become inextricably associated with the tablecloth at Italian restaurants, the standard picnic blanket, sheets at European hostiles and the Dirndl fashion trend.
It originated from the weavers in the town of Vichy (don't mention the War!) and this plain cotton with the high contrast, two-tone little squares was initially designed for use in farmers´ clothing or bedding. It was none other than Brigitte Bardot who was primarily responsible for its entrance into the world of fashion by virtue of her wearing licentious dresses and minimal bikinis with the Vichy checkered pattern in the 1950s. In today's world, this classically beautiful pattern is not only used on dresses and blouses, pajamas and tablecloths but can indeed be found showing up all over the designer market in the forms of bags, cell phone pouches, lampshades or children's articles. The typical pattern of the squares is the result of two equally wide stripes with different colours being used for both the warp and woof threads.
Note: cotton should be washed before working with it because it will shrink.
Care tips:
Washing should be done with organic detergent that has no brighteners or bleaching agents.
It can be washed by hand or machine at 40 °C, wash dark colours separately, do not machine dry, iron with a lukewarm setting (110 °C).
Vichy (chequered) cotton, 2.5 x 2.5 mm (5581)
2 Variants
Note
Minimum order: 0.5 running meter. Please note that no exchange is possible in the case of products cut from rolls.