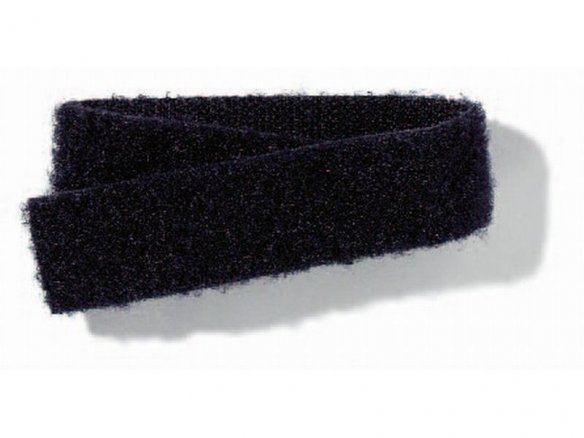 100% polyamide, hook and eye bands are attached at the back, ÖKO-TEX standard 100 product class ll certified (this is a process testing for over 100 harmful substances), functional life is about 10.000 openings and closings
In the case of the back-to-back version, one side consists of the hooks and the other of the eyes so that various objects (e.g. rolls of cable, skis or sleeping mats for camping) can be quickly bundled together and unbundled when necessary. In addition, it can also be used as an alternative to trouser clamps when bicycling.
When sturdy bonds that can be often undone are required, Velcro is the right choice. The two sides with hooks and eyes can be attached to one another to make sturdy and long-lasting bonds many, many times without wearing out.
Attributes: This so simple and ingenious system originated from George de Mestral from Switzerland. In 1941 he realized – after taking a walk with his dog – how difficult it was to remove burrs from clothing and, yes, dog hair. By using a microscope he was able to determine the reason for the strong stickiness of the burr: it consists of numerous tiny elastic hooks which attached themselves to the loops in cloth or animal fur and which, even when forcefully pulled off, did not break. Based on this natural phenomenon, our Swiss engineer developed the Velcro fastener.
Applications: These hook and eye fasteners were originally almost exclusively used as an alternative to zippers in clothing and other textile applications. Because of its flexibility, its ease of use, long life and low price, the Velcro fastener has established itself as a convenient fastening system in many sectors.
It can, for example, be used to make removable mountings of presentation boards in stores and trade shows, for screwless affixing of wall panels made from thin sheet steel or for shoe and bag fasteners.