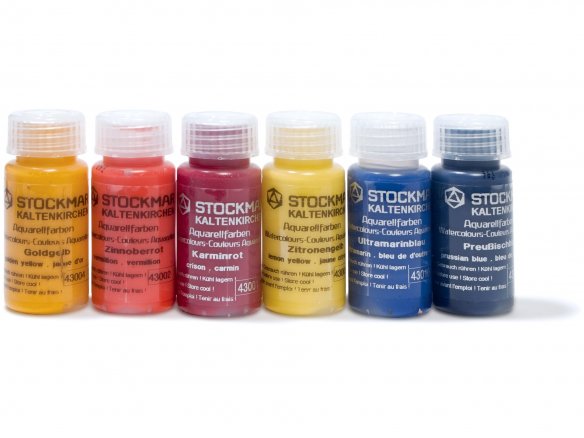 rich pigment content, lightfast (non-fade), binder is gum arabic, conforms to European safety norm for toys EN71 and more! (see Info), for colour assortment of the different sets see Info as well!
These high-quality watercolour paints from Stockmar can be used for glazing techniques, are naturally transparent and have a high degree of lightfastness. They can be applied in the customary ways and are suitable for all the known watercolour techniques.
The colour tones are chosen based on Goethe´s theory of colour. In addition, they are so matched to each other that they can be mixed to produce all the intermediary shades. Using the wet-on-wet technique allows contour-free colour gradients and harmonious mixed colours to be produced. Even if the paints are already dry they are still water soluble, which is great for alterations. Furthermore, when mixed these paints do not lose any of their brilliance or intensity as is the case with paints from other manufacturers. Another nice feature: if you mix the white paint into the coloured paints they will be opaque when applied. The paints are also distinguished by their long shelf-life and have a very high yield value (coverage per amount used).
The Colour Circle Colours line is likewise made up of watercolour paints. They consist of the primary colours red, blue and yellow and possess high spectral purity and transparency. With these three Colour Circle Colours the complete colour circle (Goethe´s) can be created.
All the Stockmar products are great for use in art education and especially for working with children. 
Stockmar products present no danger to health and are environmentally safe. The Stockmar insignia "Constant raw material monitoring" assures that Stockmar has each batch of product checked by an independent laboratory. That means, for example, that the allowed pollutant levels for writing utensils, artist paints and modeling clays as described in the safety norm EN71 are too generous for the Stockmar company. For its production process Stockmar uses the much stricter food regulations, which demand much lower pollutant levels than the toy safety norms mentioned above. In areas where no threshold value is given in the food safety regulations Stockmar has established its own. 
Set Description

Included Colours
small basic assortment, 6 colours, 20 ml each
crimson (01), vermillion (02), yellow gold (04), lemon yellow (05), ultramarine (10), Prussian blue (18)
small suplementary assortment, 6 colours, 20 ml each
blue-green (08), red violet (12), reddish brown (13), black (15), white (16), indigo (31)
Stockmar watercolour paint
21 Variants