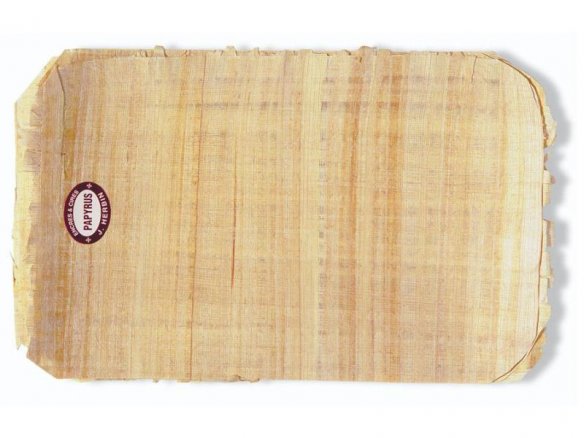 Strip from the pith of the papyrus plant, rectangularly super-imposed and pressed, natural colours, very coarse, moisture-sensitive
This forerunner of paper was the most important medium for the writing of letters, documents and religious texts in the early Middle Ages and is still produced today using the same hand-made production techniques used at the time of its invention around 3,000 BC. Papyrus is made with the pith of the Egyptian wetland sedge (similar to grasses or rushes) with the name Cyperus papyrus. It consists of thin strips that are cut as long and wide as possible; the strips are lain one over the other at right angles, compressed and finally hammered, thereby mashing the layers into a single sheet. During this process the plant's sap, which contains starch, serves to bond the strips as the drying process proceeds thereby forming a stable fabric.
It is not all that easy to write on papyrus with a steel nib because the very course ribbing of the surface resists the flow of the pen. If the underlying material during writing is too soft, the nib can break through the papyrus. The correct tool for writing on papyrus is a reed or BAMBOO PEN or a supple goose quill. A paintbrush also works very well for painting on papyrus. The natural size of the papyrus is very effective in stopping paints and inks from running.
In today's world, papyrus is mainly used for artwork (painting) and printing (linocut and screen printing) as well as for decoration and handicrafts purposes. It can be painted with tempera, acrylic, aquarelle and water colours. Pastel chalk and felt pens can also be used. This material, which has such a great feel to it as well as a great look, is also suitable for use in making book or folder covers as well as packaging and shows off its beautiful and vivid texture especially nicely when backlit.
Genuine papyrus, 255 x 340 mm, 3 sheets