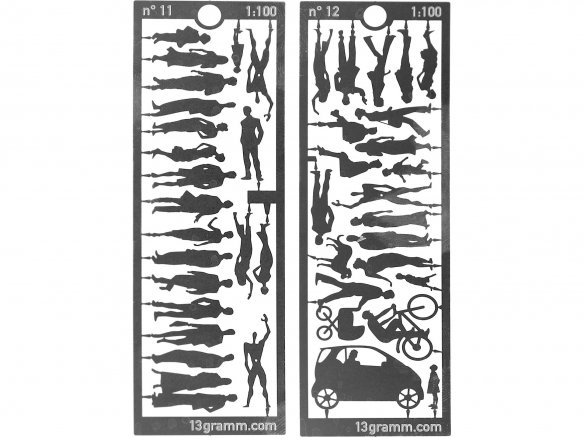 punched out, matte finished, individuals and pairs, standing, walking, sitting, Corbusier´s modulor proportion figure (the guy with one arm raised), person with dog, bicyclist, automobile, flat blank format 0.3 x 33 x 103 with figures to be cut free
These small stainless steel silhouette figures are extremely intricate and display amazing detail. Even in the 1:500 scale you can recognize Le Corbusier´s proportional figure – the modulor – and the woman with the baby carriage. Along with people, there are also dogs and various automobile types on the flat blank, for example a Smart car. In comparison to other silhouette figures made, for example, from plastic or brass, these matte finished, stainless steel figures and objects have an elegant, modern but nonetheless timeless appearance.
Each individual figure comes equipped with a pin that stays with the figure when it is broken away from the frame at the predetermined breaking point, which makes the removal that much easier. A pair of scissors or a small side-cutting pliers are perfect for this work. If the figures are to be attached to a model made from a yielding material like, for example, rigid foam, a small hole should be punched and the pin on the bottom of the figure should be inserted into it. A certain amount of dexterity is required when having to glue the figures to a hard substrate, particularly in the case of the smallest ones; it is best to work with a tweezers while applying the glue (e.g. SUPER GLUE) in very small amounts with a syringe.

Stainless steel silhouette figures, 1:100
2 Variants