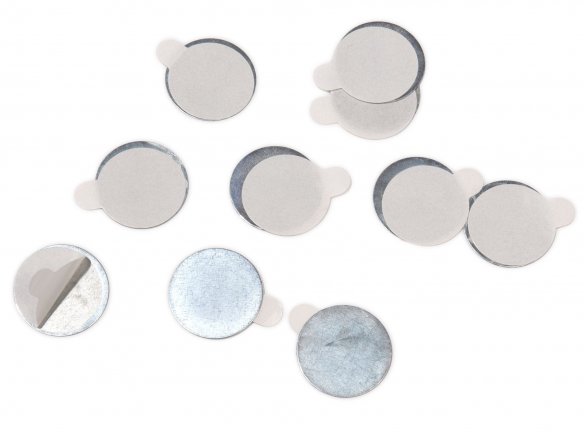 For magnetic pocket and folder closures
Very flat, applied with little effort
Strong adhesive strength
Material

steel, magnetic

Design

self-adhesive with backing paper and easy-peel tab

Adhesive

Acrylate adhesive, firmly sticks

Dimensions

21 mm head diameter, thickness = 0.3 mm
These round metal discs, made of steel, are not magnetic themselves, but magnets adhere to them. For example, if you want to install flat magnetic fasteners in your bags, boxes, or folders, the thin plates are ideal counterparts to strong neodymium magnets. You can hide them under the cover, or sew them in, to make them almost invisible.
If you can't get used to large magnet boards in the office, you have a playful alternative to hanging plans, posters, and notes with these steel discs that can be attached at specific points.
The self-adhesive backing of the metal discs adheres not only to paper and cardboard, but also to plastic, glass, or wood. So that the backing paper on the adhesive layer comes off with ease, an easy peel tab peeps over the edge. Good thinking!
Round metal blanks, self-adhesive, th = 0.3 mm
2 Variants