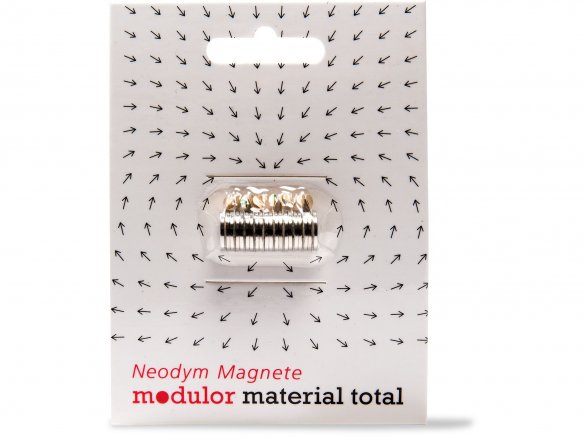 packaged in pairs (north/south)
paper-coated, with pull tab for easy removal
neodymium iron boron (NdFeB), nickel-plated, matte, extreme adherence strength (10 to 15 times stronger than normal ferrite magnets of the same size), direction of the magnetization is through the height (axial), for use at a maximum temperature of 80 °C; attention: the designation "N" does not refer to adherence strength (see Information about Neodymium Magnets)!
Magnetic disk, neodymium, self-adhesive
4 Variants
6,00 mm
8,00 mm
10,00 mm
12,00 mm
Note
Neodymium magnets are extremely powerful. Crushing and bruising injuries can occur when handling these magnets, especially the larger ones. When two magnets collide together, small pieces can be broken off and cause injury. For these reasons the magnets should be handled carefully and they should definitely not be allowed to crash into one another from a distance. Magnets should never land in children's hands because swallowing them can lead to serious medical problems.

Particularly the larger neodymium magnets should never be stored or used near devices or objects that can be damaged by magnetism. This can include, among others, televisions and monitors, credit cards, bankcards, computers, data storage devices of all kinds, video and music cassettes, mechanical clocks and speakers. A large magnet can also disturb heart pacemakers. When in doubt you should exercise caution!
Accessories and Related Products