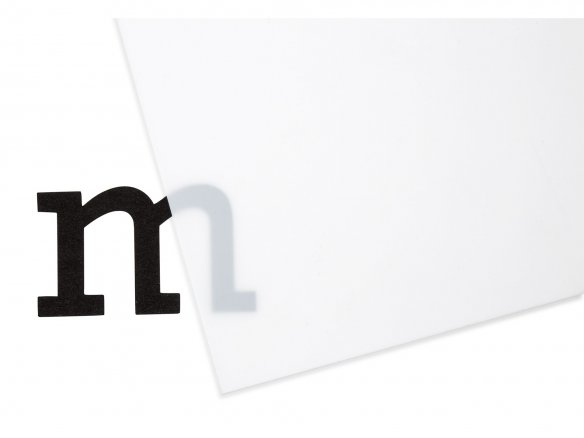 milky white, matte/matte, calendered, largely free from flow marks, light transmission: 55 %
The rigid-PVC translucent light box film has about the same level of translucence as PLEXIGLAS® XT-Film LS. The film spreads the light extremely well and is therefore not only good for making light boxes but also for making lamps or architectural models with lighting effects and for use in simple rear projections. Beyond that, the film is also great for making signs, displays, packing containers, cover sheets, etc.
The material can be printed with special paints using UV-offset printing. It can be folded, grooved, slotted, punched as well as cut with a blade or a shears. In order to prevent the film from taking on a static charge which would attract dust and dirt, the surface can be treated with either Aerodecor antistatic spray or antistatic plastic cleaner.
Plastic films that can be printed with ink-jet and laser printers can be found as Ink-jet film sheets, plotterfilms, laser films, copier films.
Rigid-PVC lightbox film, translucent
2 Variants
210 mm x 297 mm
297 mm x 420 mm