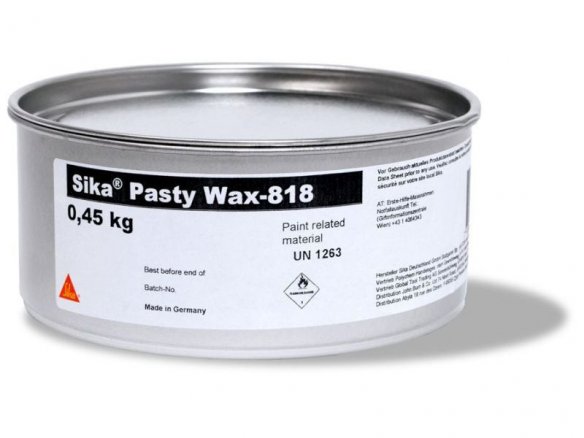 pasty
silicone-free
halogen-free
ready
wax dispersion paste, silicone-free, halogen-free, colourless when dry, ready-to-use for application with a rag or a brush, air evaporation time is 5 - 10 minutes, polishes up well, consumes approx. 50 - 100 g per m², operation temperature up to 140°C (after conditioning), shelf life when properly stored (18 - 25 °C) is at least 18 months
Description
Hazard warnings
Release agent 818 is also a wax dispersion that is free of silicone. In contrast to 815 Quick, this whitish agent has a paste-like consistency and can therefore be applied with a cotton cloth or a BRUSH and allowed to dry for 10 to 15 minutes. Otherwise, it has basically the same attributes as the low viscosity RELEASE AGENT 815: it is colourless when dry and can be very nicely polished to a smooth surface.
Danger, Kohlenwasserstoffe, C11-C14, n-Alkane, iso-Alkane, zyklisch, < 2% Aromaten = >= 25 - < 40 %, Kohlenwasserstoffe, C10-C12, Isoalkane, < 2% Aromaten = >= 25 - < 40 %, VOC-EU (Lösemittel) = 71,5 %, Diethylenglykolmonobutylether = >= 5 - < 10 %, VOC-CH (VOCV) = 38 %, Entzündbare Flüssigkeiten, Kategorie 3, Aspirationsgefahr, Kategorie 1, Chronische aquatische Toxizität, Kategorie 2
Hazard warnings
EUH066: Repeated exposure may cause skin dryness or cracking.
H226: Flammable liquid and vapour.
H304: May be fatal if swallowed and enters airways.
H411: Toxic to aquatic life with long lasting effects.
Safety instructions
P210: Keep away from heat, hot surfaces, sparks, open flames and other ignition sources. No smoking.
P273: Avoid release to the environment.
P301+P310: IF SWALLOWED: Immediately call a POISON CENTER / doctor / ….
P303+P361+P353: IF ON SKIN (or hair): Take off immediately all contaminated clothing. Rinse skin with water [or shower].
P331: Do NOT induce vomiting.
P370+P378: In case of fire: Use … to extinguish.
Downloads
Release agent 818, paste-like, 450 g in tin container
Note
Release agents are inflammable and hazardous to your health and the environment. Please take note of the dangers and the safety information on the package and the information titled "Safety at the Workplace" found under "Information about Release Agents".