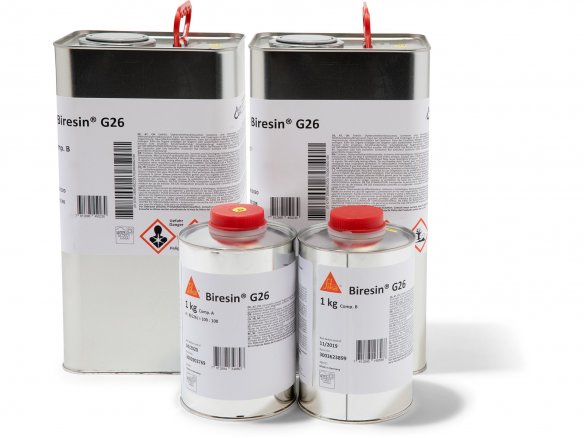 material

2 component quick casting resin

End state

cures to an opaque beige-brown colour

Density

(at room temperature) approx. 1.1 g/cm³

Hazard warnings

resin: Xn harmful, hardener: Xi irritant
G26 is a versatile two-component system with very fine textures which can be used for quick casting of models, trial moulds, shaped pieces, artistic commercial articles and other small to medium sized pieces.
Its low viscosity allows it to be poured easily and to be used for intricate shapes. Because of its somewhat longer working life, there is time to allow the escape of air bubbles before the pouring begins. Layers of G26 that have been poured one after the other with 5 minute intervals bind to one another very well. It has a short de-moulding time and very little shrinkage. Depending upon the thickness of the poured piece, it can be de-moulded after 30 minutes (thickness less than 10 mm) or up to 45 minutes (thickness more than 10 mm).
By virtue of its combined attributes of low viscosity and high wettability (ability of a liquid to maintain contact with a solid surface, resulting from intermolecular interactions when the two are brought together), the quick casting resin G26 is able to handle a large amount of FILLER. Filler types and amounts can be chosen according to the intended use, be it for casting in thin or thick layers or also for making putty. For pouring thicker layers (over 20 mm), a ratio of 300 parts filler to 100 parts each of resin and hardener can be employed; for thinner layers no more that 200 parts filler should be added.
As compared to G27, the G26 quick casting resin distinguishes itself by its high impact resistance and elongation at tear. When cured, the G26 lends itself very nicely to mechanical processing. (In order to modify the working life and the mechanical attributes of G26, the G27 curing agent can be used as the second component instead.)
Please note that when G26 casting resin is exposed to the outdoors for longer periods of time (without being sealed with an appropriate agent), the fact that it is not UV resistant will result in its yellowing or becoming dangerously brittle. On the other hand it should be noted that a cured object will survive short-term (a few weeks) in (sweet) water – for what that´s worth!
PUR G26 quick casting resin
4 Variants
Note
Most polyurethane casting resins are inflammable and hazardous to your health and the environment. For this reason, they are not allowed to be sold to private consumers. You will therefore be required to attach a copy of your business license or proof of your status as a professional when ordering this product. Please take note of the dangers listed and the safety information on the package and the information titled ?Safety at the Workplace" found under ?Polyurethane" or, alternatively, "Casting Resins".

The product consists of two components (resin and curing agent)!

Please note that we can only ship large quantities of this article per forwarding agency which means that there are higher shipping and handling costs.
Accessories and Related Products