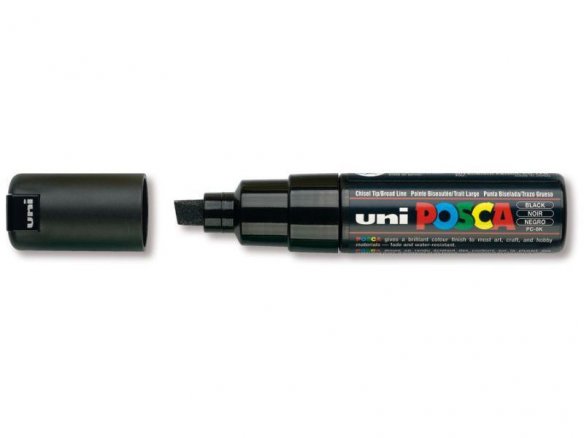 water-based Indian ink, paint-like coverage, limited smudge-resistance on smooth surfaces but very smudge-resistant on porous ones, water soluble, low-odour, bevelled (bullet) tip 1.8 – 2.5 mm, valve-controlled ink flow, plastic barrel, cap is colour of the ink
Posca was a popular drink in ancient Rome and Greece but is also now a water-based paint marker with excellent coverage capabilities. It can be used for writing or painting in strong colours on just about any kind of material. It will even adhere well to glass or metal surfaces – in fact, almost as well as a solvent containing paint marker will and actually better than a CHALK MARKER. Its adherence can be increased by means of heat – depending on the material, that could be done by ironing the reverse side or putting your material in an oven (at ca. 160 degrees).
The Posca ink is odour-free and non-toxic – the manufacturer maintains that it is therefore safe for use by children over 5 years old. The manufacturer also tells of beekeepers that use this pen to mark their queens.
A Posca paint marker can be used on practically any surface including paper and cardboard, clay, stone, cement, porcelain, wood, metal and even textile. Its adherence was even surprisingly good on such usually troublesome plastics as PP and PE. The manufacturer also ran tests on the marker and has summarized the results in tables that can be seen under: www.posca.com. There information can also be found about fixing the marker paint by means of heat.
Application: Shake vigorously with the cap securely attached before using and then press the spring-loaded tip on a paper sheet a number of times to start the paint flowing. Close up the marker quickly after using it in order to prevent the tip from drying out. If you happen to forget this advice one time you can try removing the tip and reviving it by soaking it in water.?
Posca PC-8K paint marker
6 Variants