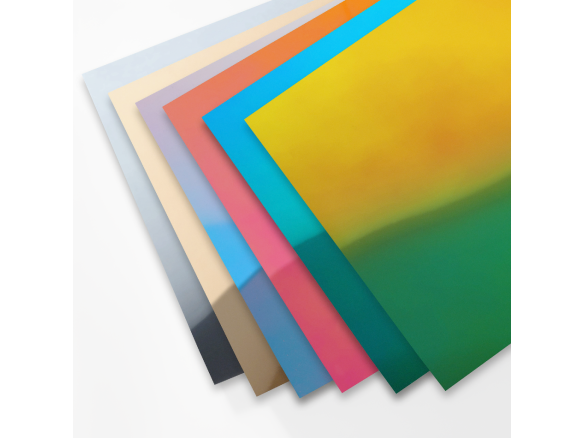 Front side

mirrored with protective film
Mirrored polystyrene is a reasonably priced and easy to work with alternative to mirrored glass or acrylic. Its surface brilliance, however, is not really comparable to that of a real mirror. The mirror effect is created on the polystyrene by virtue of an extremely thin layer of metal and a polyester film which, on the one hand, protects the metal layer and, on the other, endows the mirror with greater depth.
This product corresponds to the construction material class B2 (German norm), i.e. normal inflammability, which means that it can not be used in public spaces or exhibition rooms without prior consultation with the proper authorities.
Mirrored polystyrene is excellent for making small mirrored interior surfaces in bathrooms and kitchens, for use in jewellery design and handicrafts, for general decoration purposes, etc. One good example is that in the colours ice blue and silver it is an interesting variation for representing water surfaces or mirrored facades in architectural models.
The various colours can, of course, come across as somewhat kitschy but when used in moderation they can have their own special attractiveness. Interesting effects, for example, can be achieved when it is used in conjunction with antithetical materials such as stone or rough paper.
The mirrored polystyrene offered on this page is not of deep-drawing quality – the mirror will most certainly break if tried. Also, the use of adhesives containing dichloromethane on the mirror surface is to be avoided at all costs.
Polystyrene mirror, coloured, smooth
9 Variants
250 mm x 500 mm
500 mm x 1000 mm
1000 mm x 2000 mm