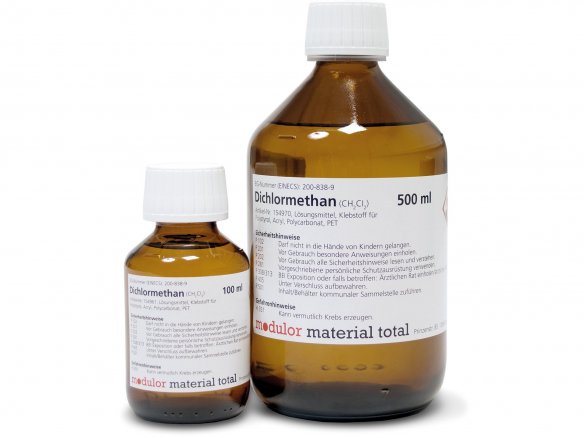 Intended use

organic solvent, adhesive for polystyrene, acrylic glass (XT and GS), polycarbonate, ABS and PET-G

Molecular weight

84.93 g

Melting point

-97° C

Density

1.3 g/ml

Solubility in water

at 20° C 2 g/100 ml

Ignition temperature

605° C

Explosion limit

13-22 Vol %

Odour threshold

25 ml/m³

Evaporation rate

1.9 : 1 ml/m³= 3,530 mg/m³

Hazard warning label

hazard warning label per EU regulation No. 1272/2008: pictogram GHS08 or, alternatively, the signal word "Warning"
Dichloromethane, or methylene chloride, is an chemical-organic compound from the chlorinated hydrocarbon group (molecular formula CH2Cl2). This colourless liquid has a typical odour similar to chloroform, is only slightly soluble in water, is lightly volatile (always close your container tightly) and has low flammability in the air.
Dichloromethane is used as a paint stripper and degreaser as well as as a solvent for resins, fats, plastics and bitumen. It is also used as a means for gluing thermoplastic plastics like polystyrene, acrylic glass, polycarbonate, PET-G and ABS (a "diffusion adhesive"). In this application, the plastic is etched (solvated) and seamlessly "welded" together. In model making its ability to quickly make a transparent bond on acrylic glass materials without having one´s finger become stuck as well is highly prized. The plastics polypropylene and polyethylene are not soluble and therefore cannot be glued with dichloromethane. It can also serve as a degreaser or solvent for resins, fats, plastics and bitumen but, it should be noted, according to Decision No. 455/2009/EU from the European Parliament (amends Council Directive 76/769/EEC - conveyed in Appendix XVII of the EU REACH Regulation) it may no longer be used as a paint stripper.
Making a bond with a solvent is very easy. The precisely cut assembly pieces are held together, the liquid applied to the joint with a brush and a short amount of time is then allowed to pass. The solvent flows into the joint, solvates the plastic and the pieces become bonded. This technique is not suitable for bonding large areas because the organic solvent evaporates too quickly. Methylene chloride, it should be noted, is a volatile and toxic liquid. Its vapours can irritate eyes, skin and breathing passages considerably and it is suspected of being a cause of cancer. You should therefore always store it in tightly closed containers and pay close attention to the safety and disposal information given above in detail.
Dichloromethane (methylene chloride)
2 Variants
Note
May only be purchased by customers who are 18+ years old. When ordering, please send the filled-out customer form (available from the Downloads tab) including necessary proofs. By fax: +49 (0)30 69036-445, by E-Mail: order@modulor.de or by regular mail.

Dichloromethane (EU No. 200-838-9) is hazardous to health!

Hazard warning:
H315 + H319 causes skin and eye irritation
H335 + H336 breathing passages can be irritated; can cause drowsiness and dizziness
H351 + H373 suspected of causing cancer and can damage organs (in cases of long exposure)

Safety Instruction:
P102 keep out of reach of children
P260 + P281 avoid breathing vapors; use eye, face and hand protection
P305 + P351 + P338 in case of eye contact rinse affected area and contact a doctor
P501 dispose of contents/container to a licensed disposal site or municipal collection point

Workplace exposure limits:
USA (according to ACGIH) concentration limits in the air are 50 ppm
Germany (according to TRGS 900): workplace concentration limit of 75 ppm, peak limit 260 mg/m³, excursion factor 4 (ll)