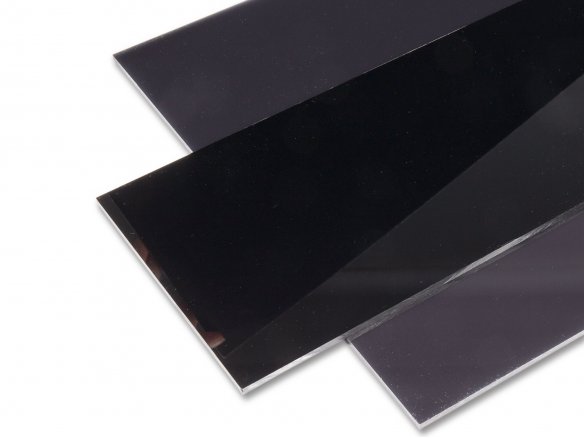 When not backlit this acrylic glass is an anthracite black sheet that, when the backside is covered, looks a lot like a regular opaque black acrylic sheet. But if you turn on a light behind it, the colour tone changes to become a milky translucent grey (the more light, the lighter the grey). This effect plays well with lettering and slides and serves to enhance mood lighting because of the marked contrast achieved. Once the light goes on, one is immediately surprised by the sudden brightness emanating from what had looked to be just a smooth shiny black surface when the light was off.
Acrylic glass GS sheets and blocks are produced by means of liquid PAMMA polymerizing between two sheets of glass. This process produces a material with outstanding characteristics: it is fracture resistant (compared to glass), weather resistant, highly transparent and lends itself to being shaped and processed.
Acrylic glass GS can be milled, drilled and sawn and, as a thermoplastic plastic, can be shaped (deformed) at temperatures between 160 and 180 degrees. When processing it with a CNC milling machine please take into account the thickness tolerances (the variability) of the acrylic glass. The values for the possible tolerances can be calculated with the help of the following formula: Tolerance = ± (0.4 + 0.1 x thickness) mm. For intricate milling work like that which often is required in model making, we recommend you use cast precision acrylic glass.
Custom cutting available. Choose your desired size! For more information about our custom cutting service, please visit Modulor Services.
PLEXIGLAS® GS coloured, black & white (custom cutting available)
2 Variants
120 mm × 250 mm
250 mm × 500 mm