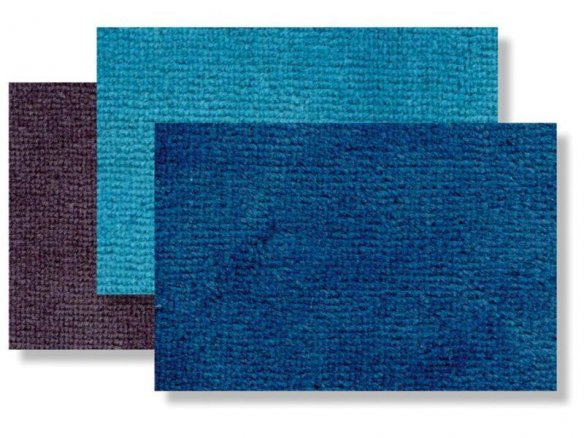 80% cotton, 20% polyester, 250 g/m², solid colour, mesh knitwear with a velvetty surface, stretches crossways, machine washable up to 30 °C, effective width ca. 1470 mm, doubled over
Nicki cloth joins the softness of velvet with the stretchability of jersey. During its production, a special system of threads that creates loops is added to the cloth. These loops are subsequently cut open and cropped. The official name for Nicki cloth is, then, a "shorn plush". The combination of polyester and cotton provides a high degree of comfort, durability and ease of care. Nicki plush is not just found being used for house clothing, casual wear and children's clothes but also in the production of toys and doll's clothing.
The nap direction of Nicki plush can be felt by running your hand lengthwise over the velvety surface. Nicki is cut in the direction against the nap and in the case of finished pieces of clothing the nap on all the individual components should run from the bottom up – which means if you stroke the cloth from the lower area towards the upper area the tiny "hairs" will lay flat but if from upper to lower they will resist your hand.
Nicki should be sewn just like jersey: A fine jersey needle is ideal because its dull point will not tend to damage the knit structure of the cloth. In order to prevent your seams from tearing when the cloth is stretched, we recommend you use a zig-zag stitch or a triple stitch or employ an overlock machine for your sewing.
Care instructions:
Washing should be done with organic detergent that has no brighteners or bleaching agents.
This cloth can be washed by hand or machine at up to 30 °C, wash dark colours separately, do not machine dry, iron inside-out on a soft underlying surface at a lukewarm setting.
Nicki (Plush), monochrome (3081)
10 Variants
Note
Minimum order: 0.5 running metre