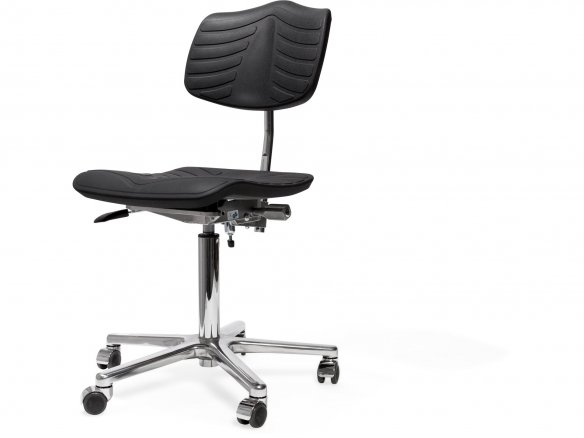 Made in Germany
High-quality and long-lasting design
comfortably soft polyurethane foam upholstery
GS symbol
Star-shaped base

polished aluminium with cast aluminium castors

Seating area and backrest

polyurethant foam (PU), black

Features

cast aluminium set screws

Width

445 mm

Depth

425 mm

Seat height

485 - 685 mm

Weight

ca. 10 kg

Guarantee

5 years
Health and active seating at the workstation are the primary concerns behind the design of the Modulor office swivel chair with polyurethane components. The seating area and the backrest are made of pleasantly soft moulded integral foam pieces that, particularly in the case of long sitting periods, increase your sitting comfort immeasurably. These office chairs conform to the European working chair norm DIN 68877 and also boast the GS (tested safety) certification mark. The 5-year guarantee and the 10-year availability guarantee for replacement parts provide you with a certainty that you will be using this chair for a long time!
The Modulor office swivel chair with polyurethane components is built according to a modular (note: the "a") system made up of the cruciform base with castors, a gas lift mechanism, a seat holder that includes the adjustment mechanism and the two seat pans. All parts are screwed together or plugged in and can, when necessary, be replaced individually. The chair is furnished with soft castors suitable for hard flooring.
The ergonomic construction of the chair promotes so-called "dynamic seating", i.e. the chair´s adjustable moving parts make it possible to continually change your sitting posture, which in turn reduces the amount of unidirectional pressure being put on muscles and intervertebral discs. The backrest can be adjusted to accommodate different weights and thereby is able to adjust to all the various sitting positions by acting in accordance with the movements of the upper body - the result being that the spine is effectively supported at all times. The backrest can of course also be locked into any tilt position between the two end points. Beyond that, the variable seat cushion tilting angle can also be adjusted to allow the optimal body opening angle of 90° to be maintained, with the result that, for instance, the amount of pressure being absorbed by the thighs is held to a minimum.
Because of its compact and understated appearance, the Modulor office swivel chair with polyurethane components works well in combination with our many Modulor table systems. 
Modulor office swivel chair, PU, 485-685 x 445 x 425, black