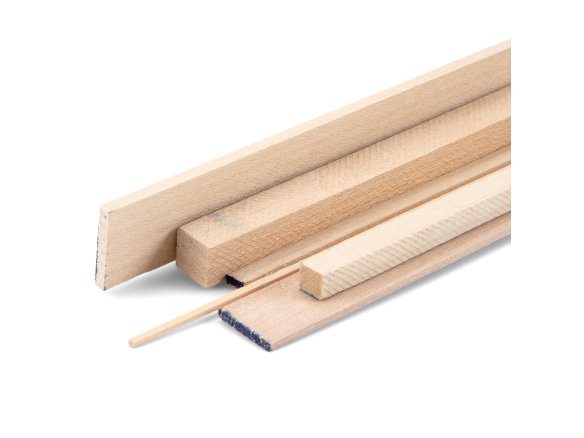 Working with lime wood strips is fast and easy; they take well to gluing (to themselves or to cardboard) and have a nice appearance on their own or in combination with other materials. These attributes make them an ideal material for use in architectural model making.
The strips can be cut with a coping saw, a fret saw or with the circular table saw from Proxxon or Böhler. Gluing can be done with either Uhu hard or Ponal express.
Straight or curved laminated girders for architectural models can be made from flat-edged strips by gluing them together in a form (e.g. a wood board with nails as guides) and letting them dry there. Strip sizes that are not included in our product range (e.g. particular thicknesses) can be realized by joining those strips that are available by means of nails or glue in such a way so as to attain the desired size.
Linden rectangular moulding
29 Variants
1 mm
1,5 mm
2 mm
3 mm
4 mm
5 mm
6 mm
7 mm
8 mm
10 mm
15 mm
20 mm
1 mm
1,5 mm
2 mm
3 mm
4 mm
5 mm
6 mm
8 mm
10 mm