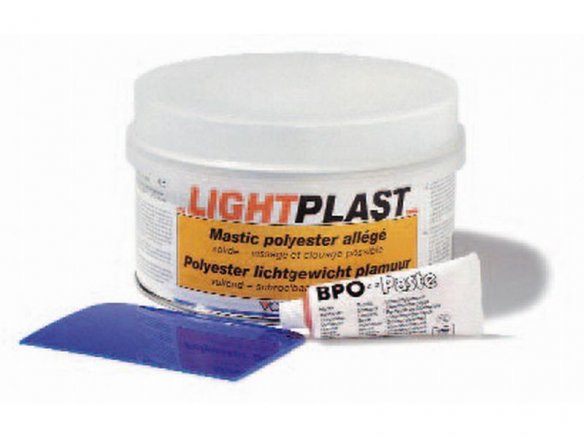 2 component filler paste, polyester resin with BPO hardener (colourless), amine accelerator; density: approx. 0.7 g/cm³, machines down well, cures to an antique white colour, mixing ratio of resin to hardener is 100:2 - 100:4, working life at 20 °C is approx. 5 minutes (2% hardener), can be worked on after 20 - 30 minutes, shelf life with proper storage (20 °C) is at least 6 months (resin and hardener), includes mixing bowl and plastic spatula
Description
Hazard warnings
Lightplast is a pasty evening, filling and construction material with a very low density. This material is used in model making as a filling agent and as a light filler (middle layer) for sandwich type materials which must withstand higher loads. The resin and the hardener should be thoroughly mixed and applied to a clean, roughened surface. Lightplast can be sanded, rasped, screwed, nailed and machined after about 20 to 30 minutes.
Danger, Dibenzoylperoxid = 45 - 52 %, Phthalsäuredimethylester = 25 - 35 %, Ethandiol = 1,0 - < 10 %, (VOC-Gehalt = 0,0 %), Styrol = 25 - 50 %, Org. Perox. E, Aquatic Acute 1, Aquatic Chronic 1, Eye Irrit. 2, Skin Sens. 1, Flam. Liq. 3, Repr. 2, STOT RE 1, Skin Irrit. 2, STOT SE 3, Aquatic Chronic 3
Hazard warnings
H242: Heating may cause a fire.
H317: May cause an allergic skin reaction.
H319: Causes serious eye irritation.
H410: Very toxic to aquatic life with long lasting effects.
H226: Flammable liquid and vapour.
H315: Causes skin irritation.
H335: May cause respiratory irritation.
H361: Suspected of damaging fertility or the unborn child .
H372: Causes damage to organs through prolonged or repeated exposure .
H412: Harmful to aquatic life with long lasting effects.
Safety instructions
P101: If medical advice is needed, have product container or label at hand.
P102: Keep out of reach of children.
P210: Keep away from heat, hot surfaces, sparks, open flames and other ignition sources. No smoking.
P220: Keep away from clothing and other combustible materials.
P234: Keep only in original packaging.
P273: Avoid release to the environment.
P280: Wear protective gloves / protective clothing / eye protection / face protection.
P302+P352: IF ON SKIN: Wash with plenty of water / …
P305+P351+P338: IF IN EYES: Rinse cautiously with water for several minutes. Remove contact lenses, if present and easy to do. Continue rinsing.
P314: Get medical advice / attention if you feel unwell.
P403+P235: Store in a well-ventilated place. Keep cool.
P410: Protect from sunlight.
P501: Dispose of contents / container to …
P201: Obtain special instructions before use.
P260: Do not breathe dust / fume / gas / mist / vapours / spray.
P271: Use only outdoors or in a well-ventilated area.
P308+P313: IF exposed or concerned: Get medical advice / attention.
P405: Store locked up.
Downloads
Lightplast polyester filler, jar 700 g incl. hardener
Note
Polyester light filler is not compatible with polysterene foam.