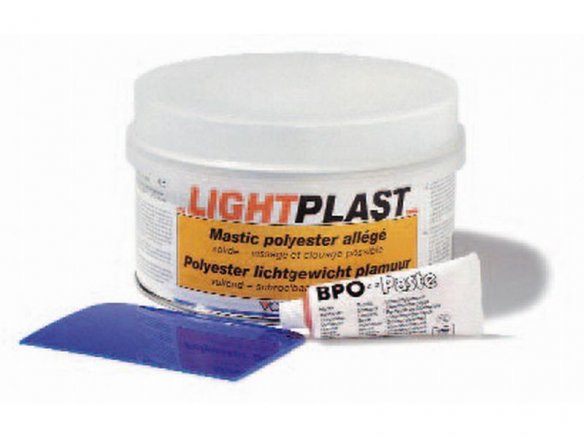 2 component filler paste, polyester resin with BPO hardener (colourless), amine accelerator; density: approx. 0.7 g/cm³, machines down well, cures to an antique white colour, mixing ratio of resin to hardener is 100:2 - 100:4, working life at 20 °C is approx. 5 minutes (2% hardener), can be worked on after 20 - 30 minutes, shelf life with proper storage (20 °C) is at least 6 months (resin and hardener), includes mixing bowl and plastic spatula, hazard warning: resin: Xn harmful, hardener: Xi irritant, O oxidizing
Lightplast is a pasty evening, filling and construction material with a very low density. This material is used in model making as a filling agent and as a light filler (middle layer) for sandwich type materials which must withstand higher loads. The resin and the hardener should be thoroughly mixed and applied to a clean, roughened surface. Lightplast can be sanded, rasped, screwed, nailed and machined after about 20 to 30 minutes.
Lightplast polyester filler jar 700 g incl. hardener
Note
Polyester light filler is not compatible with polysterene foam.