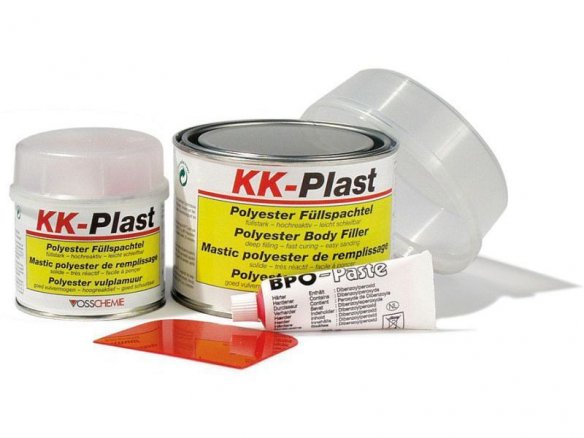 thixotropic 2 component filler, polyester resin with BPO hardener, amine accelerator; density: approx. 1.85 g/cm³, fills extremely well, sands and polishes extremely well, hardens to a grey colour, mixing ratio of resin to hardener is 100:2 - 100:3, working life is approx. 4 minutes, can be polished after 15 minutes, shelf life with proper storage (20 °C) is at least 12 months (resin and hardener), includes mixing bowl and plastic spatula, hazard warnings: hardener: Xi irritant, O oxidizing
Our KK-Plast is a thixotropic (a gel which will not run) filling and drawing filler with a high filling capacity to be used for smoothing out uneven surfaces of metal sheets, wood, glass fibre reinforced plastic, concrete, etc. The polyester resin must be thoroughly mixed with the hardener and applied to a substrate that has been sanded to as rough a surface as possible. It can then be sanded itself after about 15 minutes. KK-Plast can be worked with at temperatures starting at 5 °C (add 4% more hardener when that cold) whereby the curing time will take somewhat longer.
KK-Plast polyester body filler
2 Variants
Note
Polyester filler cannot be used with polystyrene foam.