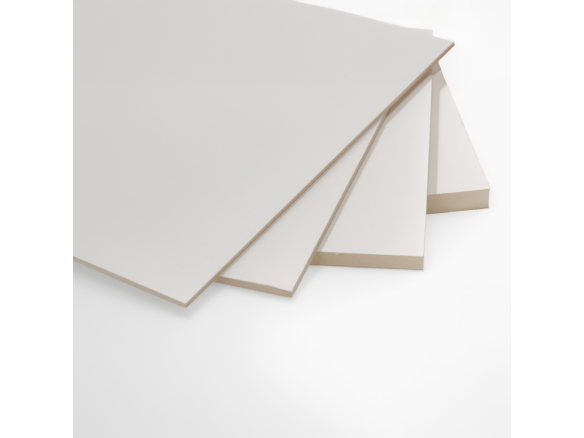 Proven for more than 50 years now!
Sheet core

PUR rigid foam, light

Protective Film

Chromo-replacement cardboard, matt on both sides, pigmented white

Color

white

Brand

Kapa
Kapa line is the basic all-rounder of Kapa's sandwich panel products. Because its core is covered with cardboard, things like grooves and slots, as well as all cuts in general, are much more easily made in comparison to the boards based on Kapa mount. This makes it the best possible material for architectural model making in scales from 1:100 to 1:1. Furthermore, it can be used wonderfully in combination with other materials such as Bristol board, Offset paper/board and Serigraphy board.
Kapa line is available in a multitude of formats. The wide format sheets are the best choice for enabling you to flexibly employ the most up-to-date digital printing technology; they are therefore capable of being well used in the fields of communication, advertising, photo campaigns or decoration.
It is advisable when attaching materials to Kapa line to cover the reverse side of the Kapa board with a material similar to that of the attachment material because the board might otherwise warp. By the same token, when dispersion paint is applied or the entire board is to be painted over, the reverse side must also be similarly treated to avoid warping.
We will cut Kapa boards to any size you want but you should know that you will be charged for the whole board because any remainders would be of no use to us. Check out our Custom cutting service information regarding this subject.
Kapa line, cardboard clad, white
13 Variants
3,00 mm
5,00 mm
10,00 mm
15,00 mm
500 mm × 700 mm
700 mm × 1000 mm
1000 mm × 1400 mm
1400 mm × 3000 mm
1530 mm × 3050 mm
Note
Please note that packages with a surface area > 800 mm x 1200 mm will be delivered per forwarding agency which means that there are higher shipping and handling costs.
Accessories and Related Products