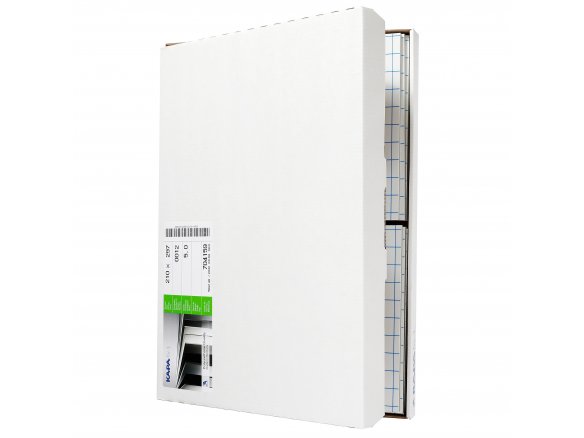 Proven for more than 50 years now!
Product description

aluminum-reinforced Kapa, covered on one side with white, self-adhesive cardboard (protective foil with blue card print)

Core

light gray PUR rigid foam core

Surface

laminated on one side with white PE foil
Kapa fix´s greatest feature: it´s the material for those in a hurry because it takes one less step to mount it. The Kapa fix in a box has the further advantage that it is already exactly cut to size (A4).
Kapa fix´s foundational material is aluminium reinforced Kapa board, one that manifests excellent flatness because the thin aluminium foil works as a tensile reinforcement. Despite this strength, the board can still be manually cut with a cutter.
Boards without a self-adhesive coating are obvious alternatives to Kapa fix, including Kapa line or mount, Forex, polystyrene panels, Dibond, serigraphy board, finnboard, grey board or honeycomb board. Boards without self-adhesive coating can employ double-sided adhesive film, spray adhesive or adhesive transfer film to make up for their deficit. When turning to these alternatives for mounting large size attachments, their reverse side should always be covered with a similar material (except Dibond) as a protection against warping.
We will cut Kapa board to any size you want but you should know that you will be charged for the whole board because any remainders would be of no use to us. Please check out our custom cutting service information regarding this subject.
Kapa fix A4-box, 5.0 x 210 x 297 A4, 12 Units