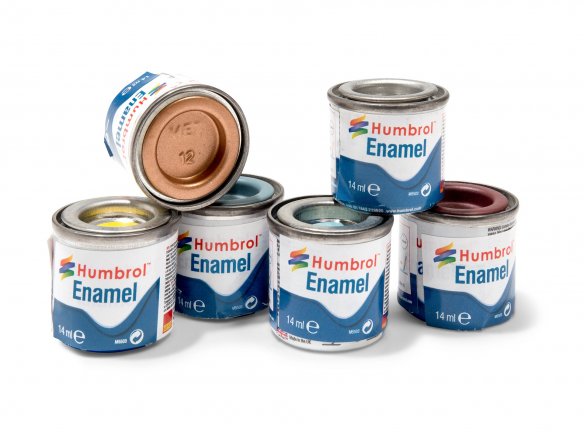 enamel paint, smudge-proof, saliva resistant
Danger, CALCIUM DRIER 4% = 1 - 10 %, XYLENE = 1 - 10 %, (VOC-Gehalt = 0,0 %), Flam. Liq. 3, STOT SE 3
Hazard warnings
EUH208: Contains (name of sensitising substance). May produce an allergic reaction. (EUH08 may be omitted if EUH204 or EUH205 has to be applied.)
H226: Flammable liquid and vapour.
H336: May cause drowsiness or dizziness.
Safety instructions
P271: Use only outdoors or in a well-ventilated area.
P280: Wear protective gloves / protective clothing / eye protection / face protection.
P303+P361+P353: IF ON SKIN (or hair): Take off immediately all contaminated clothing. Rinse skin with water [or shower].
P304+P340: IF INHALED: Remove person to fresh air and keep comfortable for breathing.
P312: Call a POISON CENTER / doctor / … if you feel unwell.
P370+P378: In case of fire: Use … to extinguish.
Humbrol model paint, metallic
12 Variants