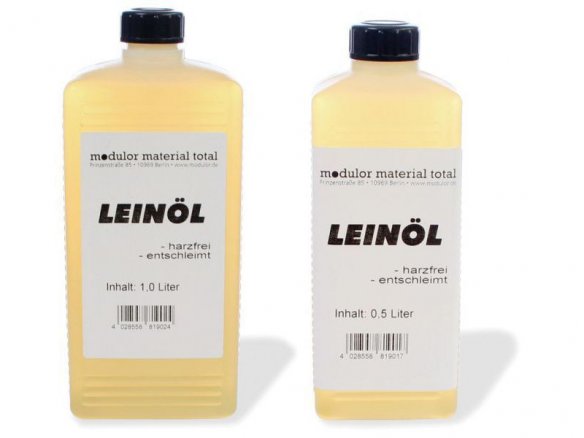 binding and thinning agent as well as paint medium for oil paints, liquid, amber colour, bleached, degummed, density: 0,94 g/cm³, flame point: +315 to 320 °C, no hazardous label required by the German Hazardous Substance Ordinance
Linseed oil is a vegetable oil that is extracted from flax seed. Because it contains a large amount of mono- and poly-unsaturated fatty acids, the curing time for linseed oil is slow – how slow is subject to external conditions: the amount of available oxygen, the temperature and the humidity. It is this characteristic that makes it so suitable for use as a natural wood protection agent or as a binding agent. It can also be used as a paint solvent that has the affect of increasing the glossiness of an oil paint.
When linseed oil is used to prime or impregnate raw wood (or plaster, stucco, masonry or terracotta) it should be applied with a brush or rag to a dry, grease-free surface. It is water-repellent but still open to vapour diffusion and penetrates deep into a wood without being thinned (in contrast to LINSEED OIL VARNISH), where it then polymerizes into a very stable fusion. After the drying process is complete, any excess oil should be removed with a cloth. The wood will now be able to become completely dry - after which fine sanding is in order.
To make your own oil paints, PIGMENTS should be stirred into Modulor linseed oil to make a slurry; more oil should then be added until you see that your mixture can now be used as a paint with the richness you require. Because the volume of an oil paint will increase as a result of oxidation (uptake of oxygen), it can be the case that oil paint coats that are rich in binders can burst through coats of paint that have been applied over them if that overlaying coat is a paint that is low in binder material (i.e. cracks can form in the top layer).
Modulor linseed oil
2 Variants
Note
Linseed oil is combustible! If the surface of a cloth made of an absorbent material is soaked with a small amount of linseed oil and air is allowed to come into contact with it, it can even spontaneously combust. It is therefore important to note that any cleaning rags or brushes must be stored in a closed, airtight METAL CONTAINER after being used.