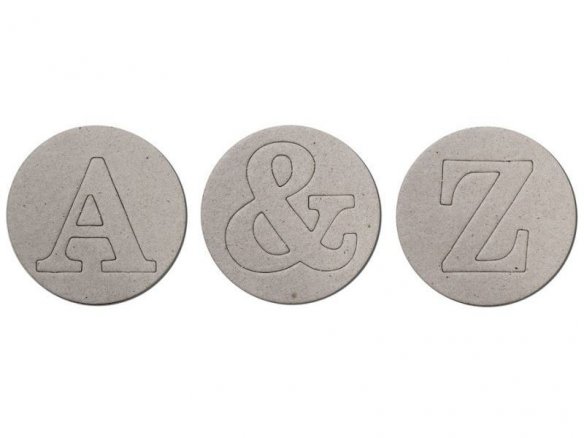 Punched parts made of grey board, th = 2 mm, disc outer diameter is 78 mm; given dimensions: height of the symbols, comes on plastic box
These symbols are actually made with scrapbookers in mind, i.e., for being glued on paper or cardboard in combination with ribbons and bows, figures and whatever other details that seem important at the time! But they can just as well be used for lettering on doors, folders, boxes, etc. For these kinds of uses, this product just begs to be painted or coated with coloured paper after being removed from the disc.
What is additionally beautiful about these numbers and symbols is that after pressing them out of their disc "homes" the now "empty" disc can itself be used as a templates for the very same symbols, which can be painted over or spray-painted, or you can use the resulting "negative" letters in conjunction with their "positive" brothers.
This product can also be used as a learning aid for children! By using PATAFIX adhesive pads or BOSTIK "reusable" adhesive, you can temporarily attach a child's first successfully formed word to a vertical surface – or the numbers can be thus attached so the kids can bone up on their math!
The package containing numbers and symbols includes:
9 x 0
2 each of 1, 2, 3, 4, 5, 6, 7, 8, 9
3 each of €, +, -, =, ()
The symbols "+" and "-" can be turned to form the signs for multiplication and division.
Greyboard letters and symbols, 42 letters A to Z and numbers, h=49 mm