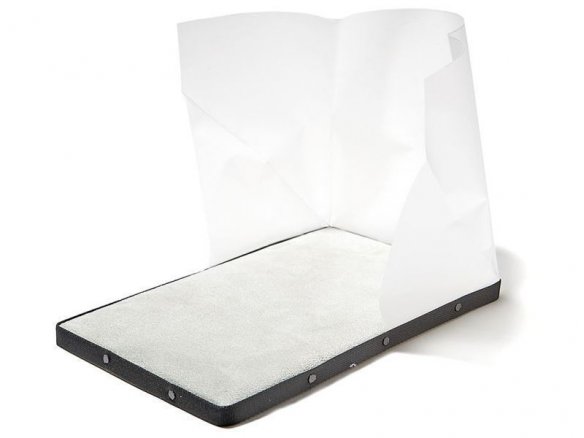 cushioned wood base, covered in suede, bordered with black cloth band, foldaway wind screen made from firm, white transparent paper, h = app. 165, d(epth) = app. 120, 2 carrier loops on the back side
The gilder's cushion is mainly necessary when working with the loose form of gold or silver leaf. It is not really necessary for work being done with metal leaves but it does, however, make it somewhat easier to deal with those sensitive leaves.
You shake one leaf from the opened page of your gold booklet into the wind screen which has been unfolded to its proper shape. In doing this, it could turn out to be necessary that you have to carefully blow a bit on the leaf to get it to move. Of course you can place more than one leaf in the wind screen, but care should be taken not to place too many there because otherwise the subsequent taking up with the GILDING KNIFE will be too difficult.
In this next step, a single leaf must be placed, with help from the gilding knife, onto the free area of the cushion. It should have already clung to the soft leather before you start cutting it to size (approximate) by applying a light pressure on the knife edge. The padding of the cushion prevents the knife from cutting through the leather during this cutting. In the final step, the metal is taken up with a GILDER´S TIP BRUSH.
During this entire process, care must be taken that you do not breath in the direction of the leaf – otherwise it will be very quickly blown away.
Gilder's cushion, 150 x 250, with wind protector