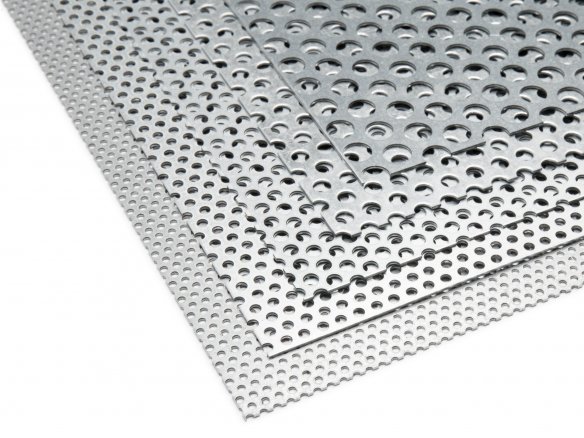 Steel grade

St 1203

Coating

sendzimir galvanised

Specification

RSp = round-holed, staggered pitch

Hole length/separation

Example: RSp 2,0/3,5 is a round-holed sheet with a hole length of 2,0 mm and a separation of 3,5 mm. The space between the holes is 1,5 mm (3,5 mm - 2,0 mm).

Thickness of the sheet

th = 1,00 mm
Sendzimir galvanized sheets are glossy and have a slightly scaly look. Because they are made from galvanized thin sheet, only their surface is protected against rust. The raw steel found at the plate's edges and the rims of the perforations will rust when exposed to moisture. For interiors this is not important but for outdoor use only completely galvanized plates or, even better, stainless steel plates should be used.
Custom cutting available. Choose your desired size! For more information about our custom cutting service, please visit Modulor Services.
Galvanised, steel round-holed, staggered pitch (custom cutting available)
10 Variants
custom cutting
250 mm x 500 mm
2,0/3,5 mm
3,0/5,0 mm
4,0/6,0 mm
5,0/8,0 mm
8,0/11,0 mm
Note
As a result of the production process, whole perforated plates always come with one unperforated border (solid metal) which is between 3 and 20 mm wide. Because the pre-cut sizes that we have for sale are cut from whole sheets, we cannot guarantee that when ordering one of these it will not have such a border. If this is not satisfactory, you can always order custom cut sizes to your specifications.