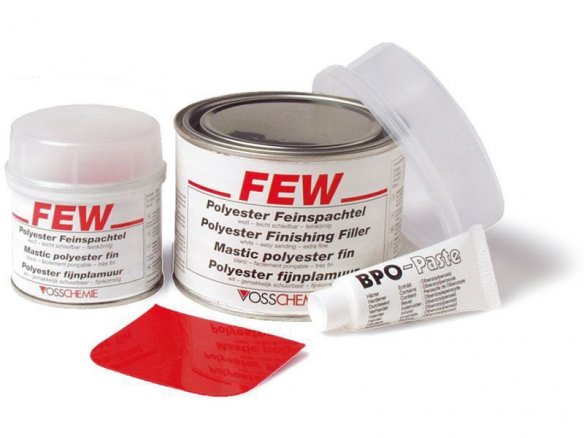 thixotropic 2 component filler, polyester resin with BPO hardener (colourless), amine accelerator, density: approx. 1.8 g/cm³, very low pore volume, sands and polishes extremely well, cures to a cream white colour, mixing ratio of resin to hardener is 100:1 - 100:3, working life at 20 °C is approx. 4 minutes, can be sanded after 15 minutes, shelf life with proper storage (20 °C) is at least 6 months (resin and hardener), includes mixing bowl and plastic spatula, hazard warning: resin: Xn harmful, hardener: Xi irritant, O oxidizing
FEW (Ferro-Elastic-White) polyester filler is a very versatile thixotropic (a gel that will not run), elastic fine filler material with a very small volume of pores. The polyester resin should be thoroughly mixed with the BPO hardener, applied with a spatula on the sanded surface and will be ready for sanding after only 15 minutes. This very fine white material, which shrinks very little and cures without cracking, makes obvious, when being sanded, just where the uneven spots on a surface are.
This filler is used for fine finishing of wood, metal, stone and plastic surfaces before applying paint and for filling small and medium size irregularities on a surface. FEW can also be used to repair small holes before reapplying paint (for example, refinishing already painted surfaces).
This filler is also used as a non-adhesive means of covering the side of a polyester laminate which is exposed to the air. In addition, FEW can be used as an adhesive for bonds that do not need to hold very strong. It should be worked with at temperatures between 15 °C and 20 °C – at lower temperatures the curing will take longer.
FEW polyester finishing filler
2 Variants
Note
Polyester finishing filler is not compatible with polysterene foam.