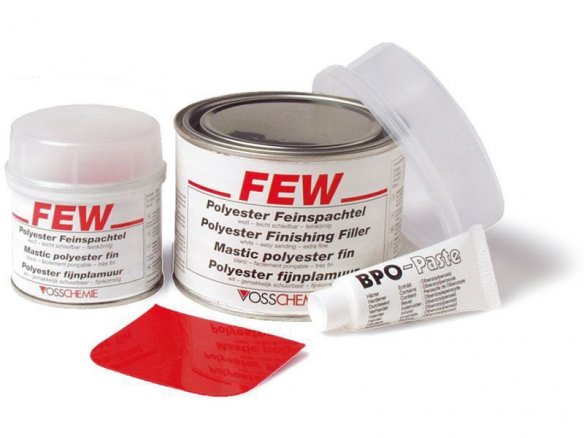 thixotropic 2 component filler, polyester resin with BPO hardener (colourless), amine accelerator, density: approx. 1.8 g/cm³, very low pore volume, sands and polishes extremely well, cures to a cream white colour, mixing ratio of resin to hardener is 100:1 - 100:3, working life at 20 °C is approx. 4 minutes, can be sanded after 15 minutes, shelf life with proper storage (20 °C) is at least 6 months (resin and hardener), includes mixing bowl and plastic spatula
Description
Hazard warnings
FEW (Ferro-Elastic-White) polyester filler is a very versatile thixotropic (a gel that will not run), elastic fine filler material with a very small volume of pores. The polyester resin should be thoroughly mixed with the BPO hardener, applied with a spatula on the sanded surface and will be ready for sanding after only 15 minutes. This very fine white material, which shrinks very little and cures without cracking, makes obvious, when being sanded, just where the uneven spots on a surface are.
This filler is used for fine finishing of wood, metal, stone and plastic surfaces before applying paint and for filling small and medium size irregularities on a surface. FEW can also be used to repair small holes before reapplying paint (for example, refinishing already painted surfaces).
This filler is also used as a non-adhesive means of covering the side of a polyester laminate which is exposed to the air. In addition, FEW can be used as an adhesive for bonds that do not need to hold very strong. It should be worked with at temperatures between 15 °C and 20 °C – at lower temperatures the curing will take longer.
Danger, Styrol = 10 - < 20 %, 1-Ethylpyrrolidin-2-on = 0,1 - < 0,3 %, (VOC-Gehalt = 0,0 %), Dibenzoylperoxid = 50 - 75 %, Dibutylmaleat = 20 - < 25 %, Flam. Liq. 3, Repr. 2, STOT RE 1, Skin Irrit. 2, Eye Irrit. 2, Org. Perox. E, STOT RE 2, Aquatic Acute 1, Aquatic Chronic 1, Skin Sens. 1
Hazard warnings
H226: Flammable liquid and vapour.
H315: Causes skin irritation.
H319: Causes serious eye irritation.
H361: Suspected of damaging fertility or the unborn child .
H372: Causes damage to organs through prolonged or repeated exposure .
H242: Heating may cause a fire.
H317: May cause an allergic skin reaction.
H373: May cause damage to organs through prolonged or repeated exposure .
H410: Very toxic to aquatic life with long lasting effects.
Safety instructions
P101: If medical advice is needed, have product container or label at hand.
P102: Keep out of reach of children.
P201: Obtain special instructions before use.
P210: Keep away from heat, hot surfaces, sparks, open flames and other ignition sources. No smoking.
P260: Do not breathe dust / fume / gas / mist / vapours / spray.
P280: Wear protective gloves / protective clothing / eye protection / face protection.
P305+P351+P338: IF IN EYES: Rinse cautiously with water for several minutes. Remove contact lenses, if present and easy to do. Continue rinsing.
P308+P313: IF exposed or concerned: Get medical advice / attention.
P405: Store locked up.
P501: Dispose of contents / container to …
P220: Keep away from clothing and other combustible materials.
P234: Keep only in original packaging.
P273: Avoid release to the environment.
P302+P352: IF ON SKIN: Wash with plenty of water / …
P314: Get medical advice / attention if you feel unwell.
P403+P235: Store in a well-ventilated place. Keep cool.
P410: Protect from sunlight.
Downloads
FEW polyester finishing filler, jar 1.0 kg incl. hardener
Note
Polyester finishing filler is not compatible with polysterene foam.