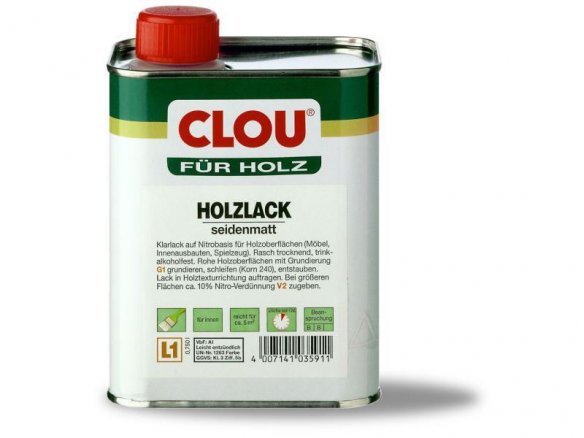 colourless transparent nitro-based combination varnish, universal application, quick-drying, takes to sanding well, easy to use, resistant to the alcohol in drinks; coverage: 1 litre for 12 square metres per coat
Description
Hazard warnings
Clou wood varnish L1 enhances the natural character of all hard and soft woods and is great for use on interior wood surfaces that are only exposed to normal wear and tear.
The wood piece intended for varnishing must be pre-sanded with 180 grit sandpaper (e.g. FINISHING PAPER, YELLOW) and all dust removed from it. Then CLOU QUICK DRY PRIMER  should be applied one or two times with a brush and after allowing that to dry for at least an hour the piece must once again be sanded, this time with 240 grit sandpaper and the dust again removed. The piece is now ready for the application of the Clou wood varnish L1.
Any tools used in the job must be cleaned immediately with CELLULOSE THINNER.
Danger, n-Butylacetat 98/100% = 25 - 50 %, Isopropanol = 10 - 25 %, 1-Methoxy-2-propanol = 10 - 25 %, Xylol (Isomerengemisch) = 2,5 - 10 %, Dipropylenglykolmethylether = 2,5 - 10 %, (VOC-Wert (EU) = 679 g/l), Flam. Liq. 2, Eye Irrit. 2, STOT SE 3
Hazard warnings
EUH066: Repeated exposure may cause skin dryness or cracking.
H225: Highly flammable liquid and vapour.
H319: Causes serious eye irritation.
H336: May cause drowsiness or dizziness.
Safety instructions
P101: If medical advice is needed, have product container or label at hand.
P102: Keep out of reach of children.
P210: Keep away from heat, hot surfaces, sparks, open flames and other ignition sources. No smoking.
P243: Take action to prevent static discharges.
P271: Use only outdoors or in a well-ventilated area.
P280: Wear protective gloves / protective clothing / eye protection / face protection.
P305+P351+P338: IF IN EYES: Rinse cautiously with water for several minutes. Remove contact lenses, if present and easy to do. Continue rinsing.
P337+P313: If eye irritation persists: Get medical advice / attention.
P370+P378: In case of fire: Use … to extinguish.
P501: Dispose of contents / container to …
Downloads
Clou wood varnish L1
2 Variants