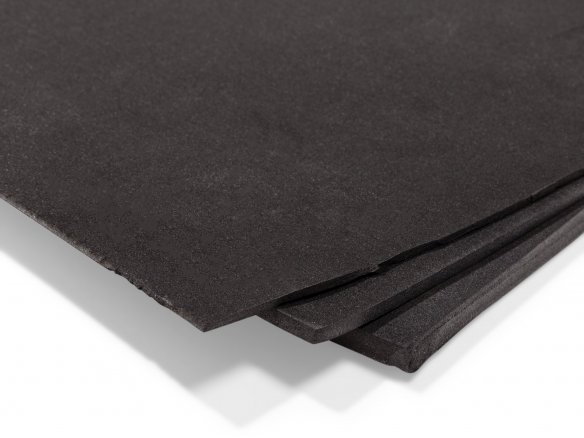 EVA foam with EPDM 60, fine pored, closed-cell
Cellular rubber is basically closed-celled and therefore a water and air impermeable foam made from natural or synthetic caoutchouc. It is distinguished by its high tensile strength, elasticity and workability even when cold. EVA (ethylene-vinyl acetate) is a copolymer that is produced with PE as its basis and is distinguished by its softness and flexibility. The synthetic caoutchouc EPDM (ethylene propylene diene monomer rubber) is very resistant to aging, to ozone and to heat as well as insensitive to most chemicals.
Cellular rubber and also cellular caoutchouc are porous materials which are completely closed-celled and which are produced through an expansion process that includes the use of an expanding agent. The foam differentiates itself from that of real foam rubber or sponge rubber mainly by its cell structure: real foam rubber contains some open cells while sponge rubber is made up completely of open cells. When used as a seal there is not the necessity for an external protective skin that there is with foam rubber.
The cellular rubber mat is an excellent material for use in presentation and packaging. You can also wrap sensitive objects between cellular rubber mats, sleep on the mats (ISO mat), or use them as vibration reducing pads or seals (also against water).
Cellular rubber can be cut with a blade or die-cut or punched using the standard tools. They can be glued using contact cement (e.g. Pattex) or mixed adhesives based on cyanacrylate or polyurethane (e.g. super glue). If any affixing of cellular rubber is meant to be temporary, standard adhesive tapes like crepe masking tape  should not be used.
Cellular rubber mat, black
9 Variants
250 mm x 500 mm
500 mm x 1000 mm
1000 mm x 2000 mm