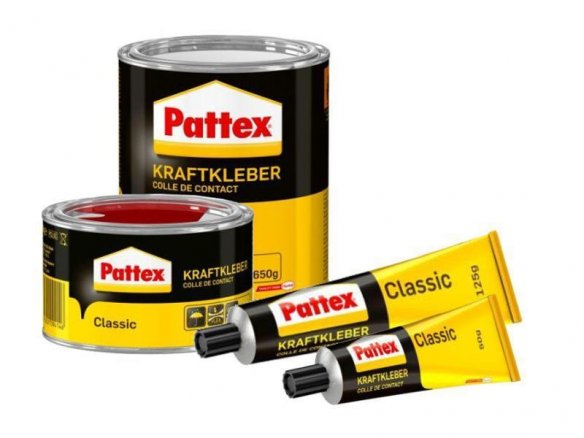 contact adhesive, yellowish brown, contains solvent, temperature resistant from –40 to +110 °C, water resistant, flexible
Description
Hazard warnings
Pattex Classic high-strength glue is a solvent containing contact adhesive that provides the highest bond strength, is water resistant and very resistant to heat. Pattex is especially good for bonding wood materials with laminates, rubber, leather, cork, felt, rigid PVC, soft foam, metal and much more. Pattex is not suitable for use with PE and PP or polystyrene foams, soft-PVC or synthetic leather.
Pattex high-strength glue should be applied to both sides of the pieces to be bonded. Before joining the pieces together, the solvent must be allowed to evaporate (at room temperature this takes about 15 minutes). The pieces should then be pressed together firmly for a short time. The initial adhesive strength is so high that the workpiece can be further worked on immediately after the joint has been made. After about 3 days, Pattex achieves its maximum bonding strength. It takes between 250 and 350 grams to bond one square metre when applied properly (to both sides of the bond).
Danger, Ethylacetat = >= 25 - <= 50 %, Methylcyclohexan = >= 20 - <= 40 %, Kohlenwasserstoff aliphatisch C4-11 < 0,1% Benzol = >= 10 - <= 20 %, Kolophonium = >= 0,1 - <= 1 %, Zinkoxid = >= 0,1 - <= 1 %, n-Hexan = >= 0,1 - < 0,5 %, (VOC-Gehalt (CH) = 78,52 %), Entzündbare Flüssigkeiten, Kategorie 2, Reizwirkung auf die Haut, Kategorie 2, Schwere Augenreizung, Kategorie 2, Spezifische Organ-Toxizität - bei einmaliger Exposition, Kategorie 3, Chronische aquatische Toxizität, Kategorie 2
Hazard warnings
H225: Highly flammable liquid and vapour.
H315: Causes skin irritation.
H319: Causes serious eye irritation.
H336: May cause drowsiness or dizziness.
H411: Toxic to aquatic life with long lasting effects.
Safety instructions
P101: If medical advice is needed, have product container or label at hand.
P102: Keep out of reach of children.
P210: Keep away from heat, hot surfaces, sparks, open flames and other ignition sources. No smoking.
P261: Avoid breathing dust / fume / gas / mist / vapours / spray.
P271: Use only outdoors or in a well-ventilated area.
P273: Avoid release to the environment.
P280: Wear protective gloves / protective clothing / eye protection / face protection.
P403: Store in a well-ventilated place.
Pattex Classic power glue
4 Variants