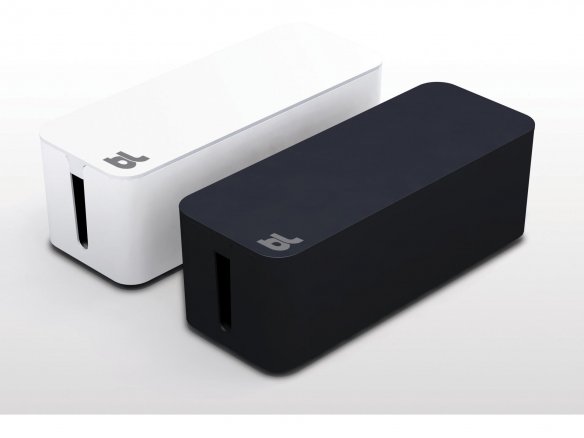 Stows power supplies, hubs, chargers, cables
on the table or underneath
in the office or at home
Put the lid on it and you're set
Length

235 mm

Width

114 mm

Height

130 mm

Material

plastic
The small BlueLounge CableBox Mini is an elegant way to get rid of that cable "salad" you´ve always hated (chaotic cable clutter).
It can be placed under your desk, next to your computer or behind the Hi-Fi set - anywhere where cables are lying around gathering dust, including those multiple plug extension cords and connectors.
The BlueLounge CableBox Mini is a sleek and nicely shaped box with a lid and a slot on all the sides: a simple and intelligent solution to the cable mess problem.
The CableBox Mini is the smaller version of the legendary CableBox. The smaller size is great for use with triple sockets, power supply units, charging devices or excessively long cables. Rubber feet provide secure footing and stability.
Bluelounge CableBox Mini
2 Variants