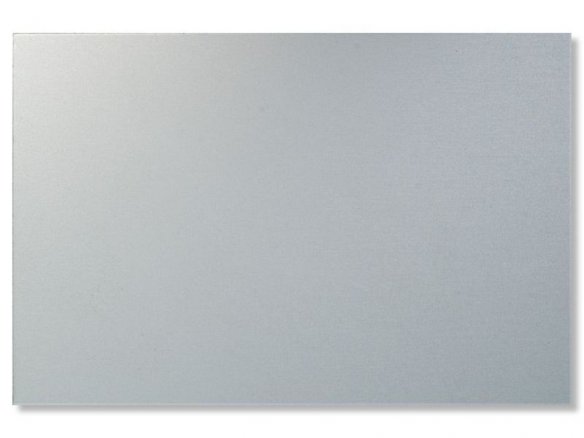 AlMg1 E6/EV1 as per construction norm DIN 17611 and EN AW-5005A, both sides smooth, one side with protecitive film
Untreated aluminium builds an oxide compound film on its surface which serves to prevent any further corrosion. Through the process of anodization (also called "eloxal" in Germany meaning "electrolytic oxidation of aluminium"), the metal surface is transformed into a dense and very hard oxide layer which is firmly bonded to the base material and serves to make it resistant to many chemical substances. As with the "natural" oxidation, the protective layer is produced by a chemical reaction that takes place without the addition of any foreign material (as would be the case with painting or galvanizing). It has a thickness of about 20 µm (corresponds to 0.02 mm). Anodized aluminium has a uniformly matte surface that seems more refined than untreated aluminium; it is more weather resistant and less sensitive to scratching, two properities that make it great for use for electrical device housing, for high quality displays as well as for window frames, mounting supports and fittings.
Treatment: Either a saw or a power shears are the right tools for making clean cuts. The light alloy aluminium can be drilled relatively easily with an HSS twist drill bit. Gluing work can be done with, for example, two-component epoxy adhesive. If you want to deform an aluminium sheet (bevel the edges, bend it, etc.), raw aluminium should be used instead of these anodized sheets (these can then be anodized after your deforming work is finished because such mechanical actions can lead to fine cracks in an anodization layer which will appear at least as soon as a second glance).
One last tip for handicrafters: you can do the anodizing yourself at home in small amounts. You can find any number of internet webpages that will provide instructions.
Aluminium sheets, anodised (custom cutting available)
3 Variants
Note
Custom cuts of aluminium sheet can be lightly scratched on one side because only one side is protected by a film overlay.

Please note that no exchange is possible in the case of products cut from rolls and pre-cut pieces.