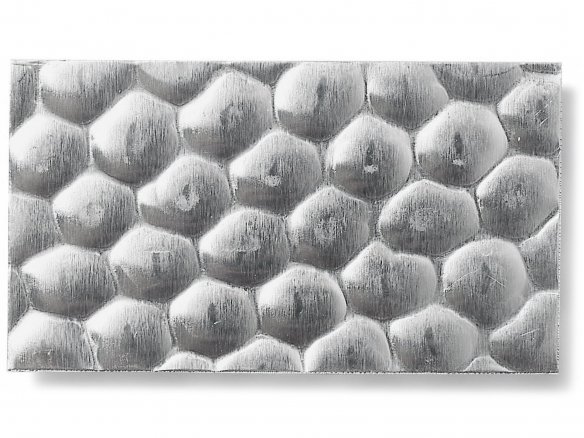 Al 99.5; medium hard, through-stamped
These structured aluminium sheets are a great material for building and designing purposes because they are easy to work with, are lightweight and, not least, because they have a wonderful appearance. They can be used in interior work, trade show and exhibition constructions, for decorations or stage design, in photographic studios as reflection or background material and in architectural model making as well.
Cutting work on these sheets is best done with a saw, electric or air powered metal snips or a metal plate shears. When cutting by hand with a METAL SNIPS, keep in mind that the material will be lightly deformed in the process. Aluminium sheet can be successfully glued with two component glue like, for example, those based on cyanoacrylate; in model making, Uhu hard or Ruderer plastic glue can also be used. Aluminium cannot be soldered using conventional methods.
Custom cutting available. Choose your desired size! For more information about our custom cutting service, please visit Modulor Services.
Aluminium hammered sheets, coarse (custom cutting available)
3 Variants
custom cutting
250 mm x 250 mm
250 mm x 500 mm
Note
Please note that no exchange is possible in the case of products cut from rolls and pre-cut pieces.