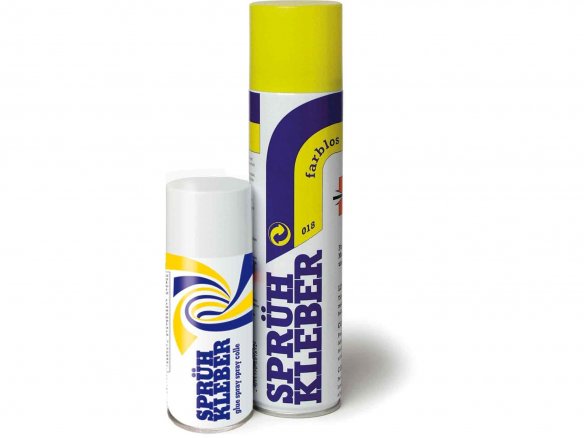 material

all-purpose spray adhesive
Description
Hazard warnings
Aerodecor spray glue is good for large area gluing work when affixing lightweight materials like paper, cardboard, wood, thin veneers, cork, leather, textiles, felt, soft foam, keep your distance! make preliminary test!), polystyrene rigid foam (OK, but not always the best choice), rubber and plastic films (except Soft-PVC and PE/PP).
When gluing paper to both paper or cardboard, repositioning represents no problem if you do not allow the adhesive to dry in the air and the objects are stuck to one another quickly. If you allow the adhesive to dry some in the air, the resulting bond will be strong and permanent immediately.
Danger, Propan = 15 - 20 %, Butan = 53 - 58 %, Aceton = 11 - 16 %, Kohlenwasserstoffe, C6, Isoalkane, < 5% n-Hexan = 9 - 14 %, (VOC-Wert = 548,0 g/l), Flam. Aerosol 1
Hazard warnings
H222: Extremely flammable aerosol.
H229: Pressurised container: May burst if heated.
H319: Causes serious eye irritation.
H412: Harmful to aquatic life with long lasting effects.
Safety instructions
P102: Keep out of reach of children.
P210: Keep away from heat, hot surfaces, sparks, open flames and other ignition sources. No smoking.
P211: Do not spray on an open flame or other ignition source.
P251: Do not pierce or burn, aven after use.
P410+P412: Protect from sunlight. Do not expose to temperatures exceeding 50°C / 122°F.
P501: Dispose of contents / container to …
Aerodecor spray adhesive
2 Variants