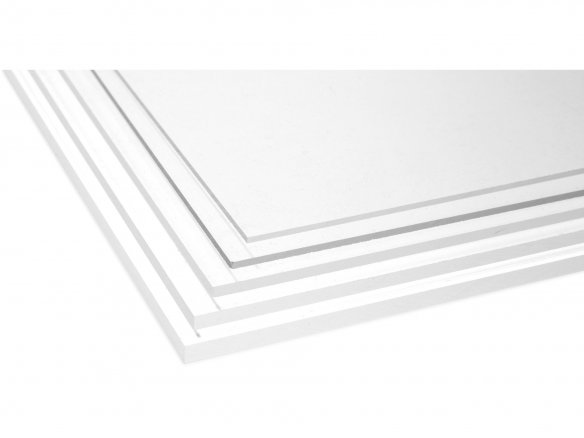 glossy/glossy, both sides with protective film, all edges trimmed
Acrylic glass XT sheets are excellent for indoor and outdoor glazing work. They can be cut to the needed size with a circular saw. In order to make presentable edges it is definitely necessary to sand and polish (flame polish) the rough edge produced by the saw. At temperatures between 150 °C und 160 °C, the sheets can be reshaped or deformed.
Because the extrusion process used in their production is a lot less expensive than casting, acrylic glass XT can be offered at lower prices than the acrylic glass GS. The disadvantage of extruded material is that it tends to melt more readily when being machined. If, therefore, your plans include drilling or milling we highly recommend (command!) the use of acrylic glass GS.
Custom cutting available. Choose your desired size! For more information about our custom cutting service, please visit Modulor Services.
Acrylic glass XT sheet transparent, colourless (custom cutting available)
11 Variants
1,50 mm
2,00 mm
3,00 mm
4,00 mm
5,00 mm
custom cutting
120 mm × 250 mm
250 mm × 500 mm