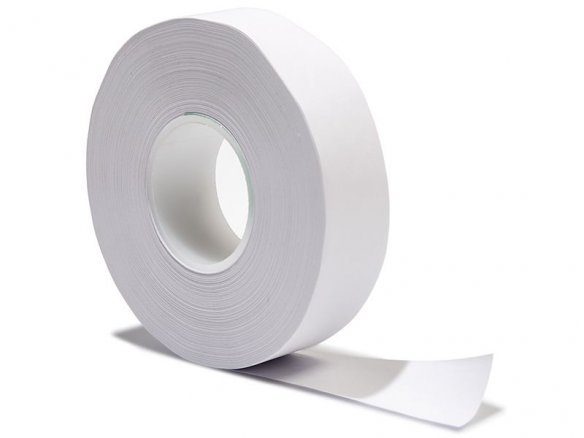 white, gummed, wood-free, acid-free, cornstarch-based adhesive coating, grammature of the paper is 90 g/m², grammature of the adhesive coating is 13 g/m², pH level is 7-8
Conventional wet adhesive tape (see: Kraft paper wet adhesive tape) is used for packaging and handicrafts purposes while this higher quality wet adhesive tape is primarily used for picture framing. Both the paper and the adhesive are acid-free and wood-free, which is the reason it is so often used for hanging passepartouts and pictures as well as similar types of conservation targeted work in the fields of artistic endeavour. The tape has a good level of tensile stress, which makes it excellent for hanging heavier sheets of material.

Processing: Wet adhesive tape can be moistened with a sponge, a cloth or a brush. By dabbing or patting water on the tape with a sponge or something similar it can also be removed again easily and quickly.

Please note: When using the terms "acid-free" and "archival quality" we are relying on the manufacturer´s information. We as resellers and the manufacturer himself provide no guarantee and are not able to produce any written verification regarding these claims. The user must make his own determination as to the suitability of the tape. We admit that this is not particularly satisfactory but the litigious nature of the times force us to take these measures.
Wet adhesive tape, acid-free, w = 24 mm, l = 50 m, white