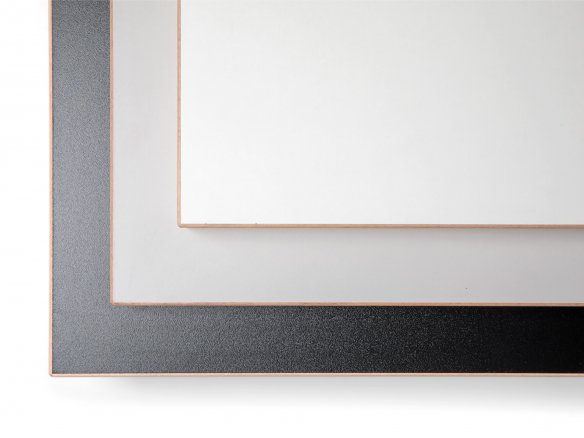 Affordable tabletop with particle board core
Double-sided lamination
High quality edge finish
Smooth or pearled finish
Many different edgings to choose from
Material

Core is chipboard

Coating

both sides coated with laminate (melamine resin impregnated paper as basis)

Surface

smooth or pearled finish (finely pearled texture)

Tabletop core

certified chipboard

Edge band (overlapping)

2 mm thick

Edge band type

ABS edge band or real beechwood band, please select separately

Thicknesses

19 mm and 25 mm
Robust and inexpensive. The core of melamine table tops consists of a certified and thus pollutant-free chipboard, which is coated with a synthetic resin, the so-called melamine resin. Depending on where the panel is used, the white version offers a choice between a silk-matt, smooth surface and a fine-grained, pearled surface. Both types of table tops have a high dead weight and are very resistant, the pearled variant is even less susceptible to wear and tear.
The classic melamine table top has a white surface and a two millimetre thick edge made of real beech wood. A further, very popular and noble variant is the black plate, optionally with black edge made of ABS plastic or also with beech edge. If you like it a little lighter or prefer natural wood structures, you can choose from different shades of grey and even from different decors: Walnut and concrete.
Melamine table tops can be equipped with a simple edge made of ABS plastic in black, white, various shades of grey as well as wood or concrete decors or with one of a total of 9 real wood edgings. The edge, in combination with the unobtrusive panel colours, provides for reduced-fine or boldly-strong accents. Surfaces and edges can be freely combined according to one's own ideas and in this way the tabletop can be made one's own.
Please note that you select the edgings separately and that the selection is only valid for one cut size. The real wood edgings are raw and not surface-treated. However, they can be sealed with hard oil or worktop oil from Biofarben.
For tables of any size, but especially for larger tables, the top variant with a thickness of 25 mm is intended. It is self-supporting and can withstand medium to large loads even without supporting frames. The 19 mm thick top requires a table frame with a frame such as table frame Y or table frame M to support it. This thinner table top can easily be placed on the shorter version of the table frame E2 (1000 mm); if it is placed on the longer version (1350 mm), the frame should be stabilised with so-called tabel top supporters.
Suitable for the children's table frame E2, we offer the classic in white with beech edge in the dimensions 680 x 1200 mm.
Note

For technical production reasons, we guarantee at least one faultless A-side of the table tops in the cut to size. Slight impairments of the surface quality of the B-side cannot be ruled out. You are not a reason for complaint. When you receive the table top, please check the surfaces and define the top side before you mount the table frame to the top.
More coloured table tops can be found under Linoleum table tops.
Table top, melamine resin coated, white (custom cutting available)
27 Variants
custom cutting
600 mm x 1200 mm
680 mm x 1200 mm
680 mm x 1380 mm
800 mm x 1600 mm
900 mm x 1800 mm
900 mm x 2000 mm
1400 mm x 2750 mm
Note
For cuts of less than 1 sqm we have to charge the flat rate per square metre due to the constant expenditure. If you require larger quantities of smaller or even larger formats, please send us an offer to [email protected]

Have you already bought melamine table tops with a thickness of 28 mm from us? If you need further matching 28 mm thick table tops, please contact our sales team: [email protected]