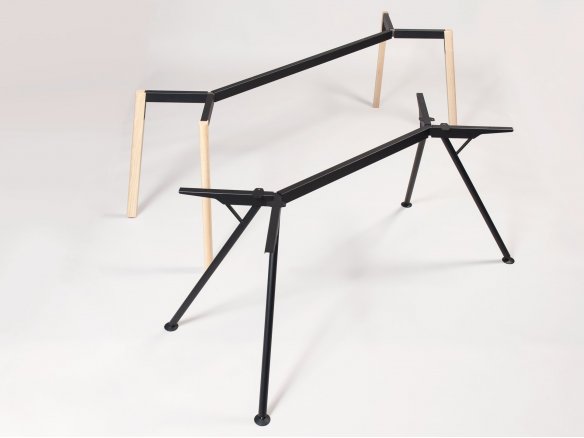 10 different types of legs
Different table frame sizes and shapes
Sturdy and long-lasting
Can be modified at any time
Important information under Downloads
Table legs, QS 10°, rectangular

2 x 30 x 30 mm, height without table top from 710 mm, adjustable base diameter 40 mm

Table legs, QL 10°, rectangular

2 x 30 x 30 mm, height without table top 970 mm, adjustable base diameter 40 mm

Table legs, RS 20°, round

diameter 35 mm, height without table top 710 mm, adjustable base diameter 40 mm

Table legs, RS 30°, round

diameter 30 mm, height without table top 710 mm, adjustable base diameter 60 mm

Table legs, ES 10°, Ash wood

40 x 50 mm, height without table top 710 mm, integrated height adjustment diameter 20 mm

Material

Steel, black pearled surface (RAL 9011)

Connectors

3 x 25 x 40 mm, different types: Y , Y 60, Y 120 , +

Frames

2 x 30 x 50 mm, different lengths: 300 mm - 1950 mm

Accessories

Hexagon socket set screws M8 x 8, slotted chipboard screws 5 x 65 mm or cross-recess chipboard screws 5 x 17 mm for a table top at least 18 mm thick.

Maximum load capacity

150 kg distributed load

Tool

is not included, hex-wrench 4 mm is needed
Please find helpful information under Downloads or under Adjust frame size to tabletop size and Assembly instructions.
The Modulor Y table frame system enables you to construct a wide range of tables with different sizes and shapes: from narrow, lengthy tables to three-legged round or rectangular tables and all the way to oversized conference tables – everything is possible. The only limitation is the size of the available tabletops.
What is particularly exciting about the Modulor Y table frame system is found in the actual construction because the rails do not follow the contour of the tabletop like they do in the Modulor M system but instead are offset towards the middle. This produces the impression that the table is kind of hovering in place while being supported by four slender legs. Only from far away or by looking under the tabletop is the effective construction revealed. Because the narrow versions of the table frames only have one rail running across the middle, we recommend that you use a tabletop with a thickness of at least 18 mm.
All the components are made of steel with a wall thickness of two millimeters and have a durable, textured powder coating. The table legs are somewhat slanted and produce a height of 710 mm, which can be extended upwards by means of the adjustable feet. When a 30 mm tabletop is used, the standard height of 740 mm is attained.
Tabletops:
Along with tabletops in specific sizes we also offer the service of making tabletops in variable sizes up to 1400 mm x 2500 mm maximum. Square tabletops can be as big as 1400 x 1400 mm while round ones can also be fabricated. The wide range of wooden sheets and panels that can be reworked in our custom cutting department can also be used as tabletops and provide the possibility of making tables that are more than four metres wide with six or more legs (this will require the tabletop to have a partition).
Building the table frame:
The legs and rails have vertical through bores (7 mm diameter holes) for screwing on the tabletop – the screws are provided. Please note that the table only achieves its ultimate stability after the top has been completely screwed to the frame.
The connectors must be stuck on the leg pieces and the rails and affixed by means of two grub screws per leg. The lengthwise play is there so that the frame will be able to be attached as close to the tabletop corners as possible. Through the use of different connectors and rail lengths, a huge number of table frame sizes and shapes can be produced. We have put together an overview of table sizes in the form of a list of many of the possible versions.
Modulor Y table frame system
26 Variants
Ersatzteile
Table legs
Connector joints
Frame
Accessories and Related Products