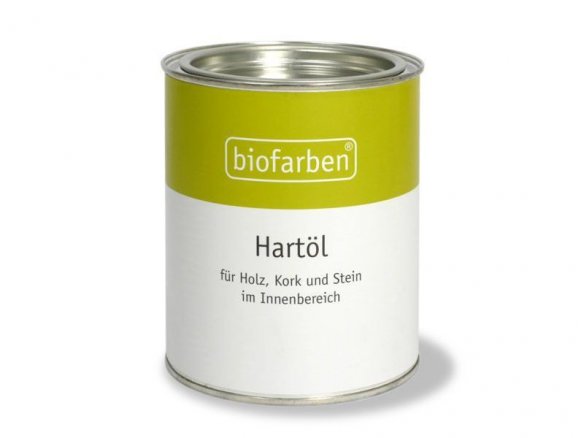 for interior use, natural oil-based, yellowish transparent, satin-matte, water repellent, water vapor permeable; yield: 60-80 ml/m² per coat, dust-dry after 10 to 12 hours, treadable and recoatable after 16 to 24 hours, resistant to saliva and perspiration as per EN 71-3 (toy safety), conforms to DIN 68861 T1 B (chemical resistance of furniture surfaces); working temperature; minimum + 15 °C, shelf-life when unopened: at least 5 years
Biofarben hard oil is a deep penetrating, open-pored and yet water repelling impregnation for all indoor absorbent surfaces like wood, cork, and unglazed clay tiles - especially those in heavily used areas and for floors. Light, very absorbent substrates will become somewhat darker when dry. This universal oil is easy to apply, does not need to be polished and can be dyed with pigments. If a very waterproof wood surface is required the BIOFARBEN WORK TOP OIL should be used.
Application: Biofarben hard oil can be applied with a brush, roller, spray device or used as a dip. When treating wood surfaces a prior sanding with 100 to 180 sandpaper can be made depending on the type or wood and the desired depth of penetration. Pigments (e.g. ARTIST PIGMENTS) can be added to the oil depending on the colouring and opaqueness you require. For this, the pigments should be soaked in BIOFARBEN THINNER or in the oil itself beforehand.
The method for achieving an evenly saturated surface is the so-called wet-in-wet application: the oil is generously applied as the first step and after 20 minutes the resulting glossy supernatant (that which is floating on the surface of the oil) should be distributed evenly and new oil applied to the dry spots. After another 30 minutes the glossy supernatant should again be removed and the surface allowed to dry for 16 to 24 hours. This whole process should be repeated until finally the surface can no longer absorb any more oil. Tools can be cleaned with BIOFARBEN THINNER. Remaining oil can be placed in a container with very little air space that can be tightly sealed - the oil will be usable for about 2 years after that.
The products from the company Biofarben adhere strictly to the principles of ecology, building biology and healthy living. All the contents are clearly displayed (check out the technical data sheets) and have been tested for their effects on people and the environment - this being an invaluable asset for allergy sufferers and an important contribution to transparency for consumers. All products are used on a daily basis in Biofarben´s own artisanal workshop - their workability is thereby constantly being monitored.  
Biofarben hard oil, 750 ml