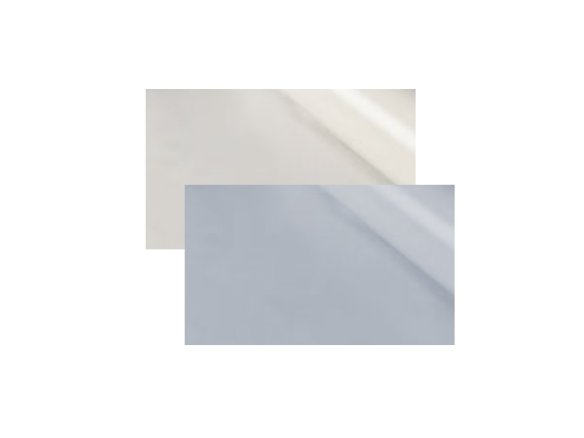 glossy/matte, flame resistant (no certification available!), with protective film
Lacquer film is a very low-priced PVC material which can be sewn or riveted (plastic and metal) as required. This makes it a great material to use for sewing a backpack or wallet; when not sewn it can function as a shower curtain or table cloth. Tip: the seams should be strengthened with SOFT-PVC GLUE.
The sewing foot will best glide on the sticky PVC when it is made of Teflon. It is, however, less expensive to use tissue paper as an underlay or to put some sewing machine oil (SILICONE OIL) on the area to be sewn to make it slippery.
The difference between single and double layered varnished film is as follows: in the case of the single-layered version, the high gloss side is provided with a protective film before the film is wound on a roll. With such protection we offer this type in running metres as well. In the case of the double-layered version, the whole length of the film (30 m) is folded once in half (2 x 15 m) and then wound on a roll. In this way the high gloss sides, which now lie one on the other, protect themselves and the necessity of a protective film is dispensed with thereby lowering production costs while maintaining the same quality. As a result, the double-layered version is clearly the better choice for large decoration and handicrafts projects.
In order to plasticize PVC, the hard PVC powder is mixed together with a plasticizer in a heating mixer. The plasticizers reduce the hardness of the plastic but do not chemically bind with the plastic. Because of this they tend to be volatile which means that plasticized PVC does not generally remain soft forever. Soft PVC films are accordingly not suitable for outdoor use.
Even though most plasticizers are physiologically harmless, the use of plastics containing plasticizers in the foodstuffs sector or for children's toys is not advised.
In addition to the conventional plasticizers, so-called flexibilizers are also used for making soft-PVC. These materials do make a chemical bond with the PVC and are therefore not volatile. "Flexibilized" PVC films consequently remain soft for a much longer time. PVC that has been plasticized in this way is referred to as "polymer plasticized PVC". Unless otherwise stated, the soft-PVC semi-finished products that we have on offer are made from basic monomer plasticized PVC.
Soft PVC films can be joined by means of a needle and thread or a sewing machine or by employing plastic or metal rivets. When sewing them, the stitches should be reinforced with SOFT PVC GLUE. The sewing or pressing foot glides best over the slightly sticky PVC if it is made of teflon. It is less expensive to lay TISSUE PAPER underneath or to add a little sewing machine oil (SILICONE OIL) to the area to be sewn in order to make it slippery.