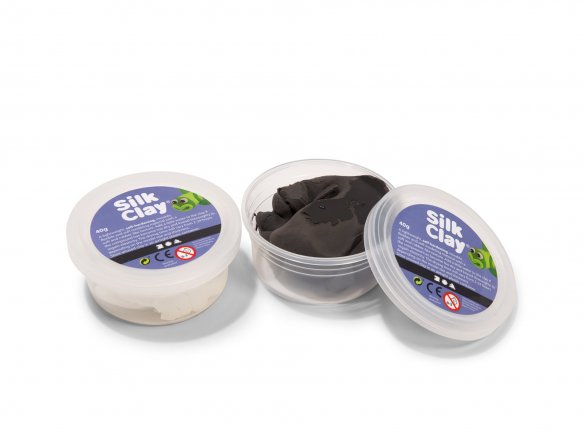 Lightweight and soft
Air dries
Remains elastic after curing
Perfect for sharp details on cosplay costumes
Good adhesion on many surfaces
Does not stick to fingers
Material

very soft, light modeling compound

Properties

air-drying, remains elastic after drying

Drying time

2-24 hours, depending on object size

Packaging

resealable plastic can

Safety note

Suitable for children three years and older under adult supervision
Cosplayers rush to get this clay! Silk Clay is light as a feather and retains a rubbery consistency after drying by air. These are perfect material characteristics for the shaping of details and ornaments for your costumes because even sharp edges and points no longer represent any danger of injury. In addition, Silk Clay adheres to many materials even without adhesive. Simply work precious stones into the soft mass. If you coat a wire with the modeling clay, you can even make flexible elements for small figures.
With its soft consistency, Silk Clay is also easy to knead and shape for children. If you let the modeling compound roll out and let it dry overnight, you can cut it with scissors or punch out shapes with a motif punch. Colors can be mixed by kneading. After drying, you can also paint the surface.
Modulor Tip: Tightly sealed, Silk Clay remains soft even after opening. If it has dried, simply knead the mass with a splash of water until it is smooth again.
Warning: Choking hazard. Use under supervision of an adult.
Silk Clay modelling material, permanently elastic
2 Variants