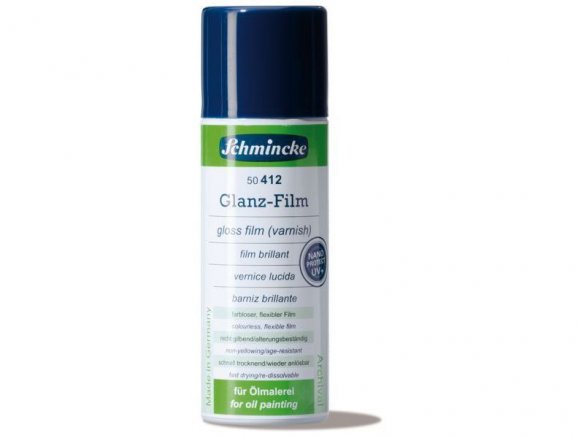 spray varnish with nano UV absorber for oil paintings, synthetic resin based, contains white spirit, glossy and elastic when dry, non-yellowing, age resistant, removable
Description
Hazard warnings
Schmincke Gloss Film is a colourless, glossy final varnish for interior use, providing elastic and resistant protection for oil paints. It is also suitable for varnishing art prints, ink-jet prints and photos. The varnish contains nanoparticles as UV protection, which protect the synthetic resins in the varnish against yellowing in the long term.
Oil paintings should only be applied after the paint layers have completely dried (at the earliest after 8-12 months). The colourless spray is applied from a distance of 30-40 cm in a cloister to the vertical or slightly inclined work. After drying, the process can be repeated several times until the desired surface effect is achieved. The more layers of varnish applied, the greater the UV protection.
The dry varnish layer remains soluble in TERPENTINE OIL and TERPENTINE REPLACEMENT, so it can be removed and replaced. This may be necessary if the surface is very dirty or damaged.
Danger, solvent naphtha (petroleum), light, aromatic = 25 - 50 %, naphtha (petroleum), hydrodesulphurized heavy = 3 - < 10 %, naphtha (petroleum), hydrotreated light = 0 - < 10 %, butan-1-ol = 1 - < 3 %, (VOC-Gehalt (CH) = 87 %), Aquatic Chronic 2, Eye Irrit. 2, Flam. Aerosol 1, STOT RE 2, STOT SE 3
Hazard warnings
EUH066: Repeated exposure may cause skin dryness or cracking.
EUH208: Contains (name of sensitising substance). May produce an allergic reaction. (EUH08 may be omitted if EUH204 or EUH205 has to be applied.)
H222: Extremely flammable aerosol.
H229: Pressurised container: May burst if heated.
H319: Causes serious eye irritation.
H335: May cause respiratory irritation.
H336: May cause drowsiness or dizziness.
H373: May cause damage to organs through prolonged or repeated exposure .
H411: Toxic to aquatic life with long lasting effects.
Safety instructions
P102: Keep out of reach of children.
P210: Keep away from heat, hot surfaces, sparks, open flames and other ignition sources. No smoking.
P211: Do not spray on an open flame or other ignition source.
P251: Do not pierce or burn, aven after use.
P260: Do not breathe dust / fume / gas / mist / vapours / spray.
P271: Use only outdoors or in a well-ventilated area.
P304+P340: IF INHALED: Remove person to fresh air and keep comfortable for breathing.
P305+P351+P338: IF IN EYES: Rinse cautiously with water for several minutes. Remove contact lenses, if present and easy to do. Continue rinsing.
P312: Call a POISON CENTER / doctor / … if you feel unwell.
P410+P412: Protect from sunlight. Do not expose to temperatures exceeding 50°C / 122°F.
Downloads
Schmincke gloss film varnish, aerospray, spray can, 300 ml