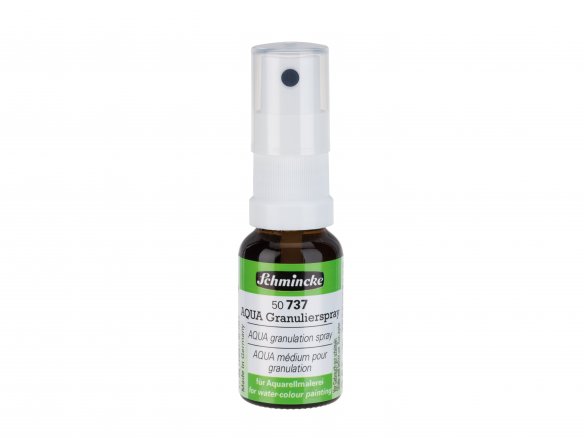 Made in Germany
Set ready for use
The effect is intensified with granulating shades
Editing the smallest areas within an image
Ingredients

ethanol

Capacity

15 ml
Description
Hazard warnings
The Schmincke aquarelle effect agent Aqua Granulating Spray is used to create effects similar to granulating with watercolors that normally run evenly. To create the desired effect, use the fine atomizer nozzle to spray the damp watercolor paint to be changed so that the pigments combine at this point.
Danger, ethanol = > 90%, (VOC-Gehalt CH = 90 %), Eye Irrit. 2, Flam. Liq. 2
Hazard warnings
H225: Highly flammable liquid and vapour.
H319: Causes serious eye irritation.
Safety instructions
P102: Keep out of reach of children.
P210: Keep away from heat, hot surfaces, sparks, open flames and other ignition sources. No smoking.
P211: Do not spray on an open flame or other ignition source.
P305+P351+P338: IF IN EYES: Rinse cautiously with water for several minutes. Remove contact lenses, if present and easy to do. Continue rinsing.
P403+P235: Store in a well-ventilated place. Keep cool.
Schmincke Aqua granulation effect spray, pump spray bottle with atomizer (glass) 15 ml