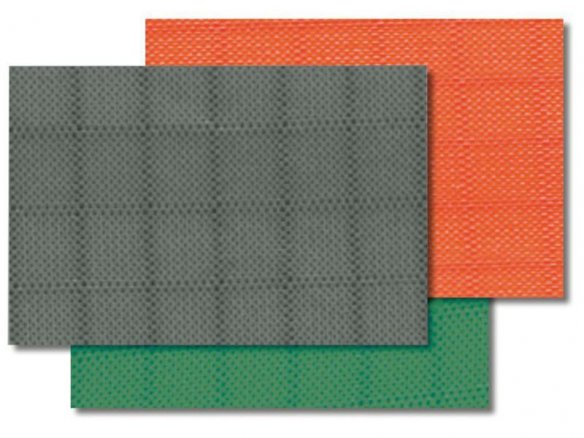 material

100% polyamide

Strength

0.05 mm

Grid size

distance between reinforcement threads 4 mm

Useable width

ca 1500 mm
Schikarex is an economically priced spinnaker nylon that is very often used for making kites. It is to a certain extent the standard bearer for these types of textiles; nice light weight, tear proof, 100% windproof, water-repellent (note: when coating is damaged the colour will run when wet). it is suitable for practically any application even if there are other (and more expensive) fabrics made from other synthetic fibres that are better in terms of UV resistance and water absorption.
Spinnaker is a sailor's term referring to a large billowing sail made from a relatively lightweight fabric. The term "ripstop" obviously means "stops ripping" and in this case refers to the fact that a series of stronger threads have been integrated at specific intervals 4 to 10 millimeters apart and these make the already really tear resistant material into one that is practically "unrippable". A ripstop fabric can be recognized by the characteristic pattern of squares that are not only practical but good-looking as well. As a rule, ripstop fabrics are made out of woven polyester or nylon fibres and are only a few tenths of a millimeter thick. In other words, ripstop is a very lightweight material but also very robust at the same time even when being attacked by heavy winds and ubiquitous water.
The following is a comparison of spinnaker materials made from nylon (polyamide) and polyester: Both of these synthetic fibres have about the same degree of tear resistance. Polyamide (nylon), however, tends to stretch more under load than polyester fabrics, a fact that only becomes important if the material is going to be stretched or spanned across an area. Nylon is only slightly absorbent while polyester is even less so. The surfaces of both are resistant to chafing and abrasions while the UV resistance of polyester is as a rule better.
Ripstop textiles are mainly used for sail and kites but can also be sewn to make tents, wind sports devices, outdoor clothing and paragliders. We additionally recommend this material for screens, lamps (with the proper distance from the bulb!) and room dividers. Its robustness makes it great for use as a projection screen, including in the great outdoors. In comparison to soft-PVC projection films (which are optically superior to ripstop material) they have the advantage of being resistant to becoming brittle or even breaking in very low temperatures. This makes ripstop an inexpensive and tear-resistant alternative for projections on outdoor screens when it is very cold. Beyond that it is really just fundamentally a good material for projections. As for its use in making kites, many kite makers look also to Tyvek as an excellent alternative.
The use of glue is not recommended when working with this material because it could become wavy as a result. Sewing is a better choice, especially when you want to seam up the edges. If you want to add Eyelets we recommend that, despite the material's tear resistance, you fold the material over and/or add a hemming tape as reinforcement so as to attach the eyelet through that area. This doubling over is also recommended when stretching the material over an expanse by stapling it. Both a Cutter and a Scissors can be used for cutting jobs.
Ripstop spinnaker nylon, Schikarex
12 Variants
Note
Please note that no exchange is possible in the case of products cut from rolls.

The minimum order for products sold from rolls: 0.5 running metre