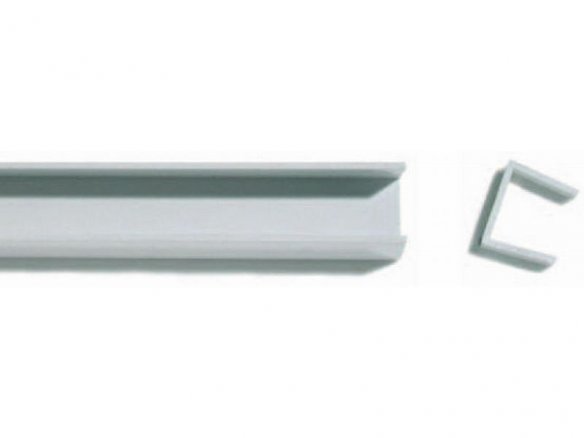 matte, construction material class B1 DIN 4102, given dimensions: height x width x wall thickness
This edge-protector made from rigid PVC has a certain amount of clamping action and can therefore be attached to panels or sheets that are of the given thicknesses (e.g. KAPA or FOREX PANELS). For professional quality framing work on 10 mm thick panels we do, however, recommend our FRAME PROFILES instead. In addition, this edge-protector can be used for many other jobs where a simple, white U-channel will suffice (wall or ceiling hangings, etc.).
This edge-protector can be cut with a CIRCULAR SAW or a HOUSEHOLD SAW and gluing work can be done with RUDERER plastic glue or COSMOFEN PLUS HV PVC GLUE.
Rigid-PVC edge-protector, 20 x 24 x 2.0 l=3000, for pnl/th=20 mm, white